Car Year Details
1989 - Ford Sierra Cosworth
5
Car:
Ford Sierra Cosworth
(Overall Item page)
Number:
5
Information:
Length - 5 1/2" - 139mm.
Category:
Cars

Category Details:
Classic cars from all eras.
Car Category:
Rally

Car Category Details:
Point to point auto racing over many different terrains.
Make:
Ford
Logo:
Ford Emblem
Logo Years:
Since 1927
Make Details:
Ford revolutionised car production by expanding and refining the car assembly line concept in the early 1900's.
Make Country:
United States
Model:
Sierra

Model Details:
The Sierra was a family car that replaced the Cortina in the Ford range.
Model Production Years:
1982 - 1993
Base Colour:
White

Colour Details:
The perfect colour.
All Colours:
White, Red, Grey


Year:
1989
Catalogue Number:
C.456
Year Information:
With working headlights, brakelights and MAGNATRACTION.
Cars tearing round a circuit headlights aglow, add a great extra dimension to Scalextric racing, especially when viewed in a darkened room.
The effect of red tail lights or working brakelights takes the imagination even further.
Cars with lights have varying specifications - check what you want against the car captions.
Motor:
---
Publication Name:
Scalextric - 30th Edition - 1/32 Scale
Publication Type:
Catalogue
Publication Edition:
30th Edition

Logo & Box Design:


Item Ranking:
Current: 205 -
July 2020
Previous: 216 -
June 2020
Movement:

(+11)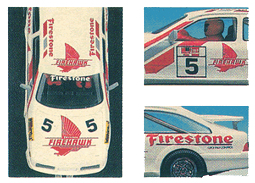 Car Year Details
(5)
Service Sheets
(4)
| SHEET NO | SERVICE SHEET NAME | ISSUE DATE |
| --- | --- | --- |
| 151 | Ford RS Cosworth with Head & Brakelights | July 1991 |
| 151 (Back) | Ford RS Cosworth with Head & Brakelights - Back | July 1991 |
| 151B | Ford RS Cosworth with Head & Brakelights | June 1992 |
| 151B (Back) | Ford RS Cosworth with Head & Brakelights - Back | June 1992 |
Ford Sierra Cosworth on ebay UK
Search For: 'scalextric (456,ford sierra)'
Ending Soonest
ITEM
DETAILS
Greenhills Scalextric Copper Drift Pick-up Braids / Brushes x 4 Length 40mm N... - Fixed Price

Location: Wetherby, United Kingdom
Condition: New
Current Price: £3.99 GBP
Time Left: 0d 3h 33m 59s
Bids: 0
Scalextric Classic Ford Sierra Cosworth Camel Racing 1980s rally. Working Lights - Auction

Location: Godalming, United Kingdom
Condition: Used
Current Price: £12.50 GBP
Time Left: 0d 7h 31m 12s
Bids: 1
scalextric ford sierra cosworth - Auction

Location: Nottingham, United Kingdom
Condition: Used
Current Price: £50.00 GBP
Time Left: 0d 12h 20m 19s
Bids: 0
scalextric ford sierra cosworth - Auction

Location: Nottingham, United Kingdom
Condition: Used
Current Price: £50.00 GBP
Time Left: 0d 12h 39m 41s
Bids: 2
SCALEXTRIC FORD SIERRA COSWORTH TOURING CAR TEXACO LIVERY - Auction

Location: Reading, United Kingdom
Condition: Used
Current Price: £5.00 GBP
Time Left: 0d 13h 19m 20s
Bids: 0
Scalextric C423 Ford Sierra Cosworth, VGC, Boxed , Lights - Auction

Location: Bognor Regis, United Kingdom
Condition: Used
Current Price: £12.99 GBP
Time Left: 0d 13h 52m 2s
Bids: 0
Scalextric C469 FORD SIERRA COSWORTH seats interior SPARE PART - Fixed Price

Location: Spalding, United Kingdom
Condition: Used
Current Price: £2.95 GBP
Time Left: 0d 14h 22m 1s
Bids: 0
Scalextric Autograph Series Tim Harvey Ford Sierra Cosworth Labatts 1:32 New - Auction

Location: Sheerness, United Kingdom
Condition: New
Current Price: £50.99 GBP
Time Left: 0d 15h 50m 29s
Bids: 0
Scalextric C3781SE Ford Sierra RS500 BTCC Brands Hatch 1990 No.11 Rob Gravett - Auction

Location: East Grinstead, United Kingdom
Condition: Used
Current Price: £29.99 GBP
Time Left: 0d 16h 13m 18s
Bids: 0
Scalextric C408 Ford Sierra Cosworth No.16 Syntron Boxed - Auction

Location: East Grinstead, United Kingdom
Condition: Used
Current Price: £19.99 GBP
Time Left: 0d 16h 45m 5s
Bids: 1
Greenhills Scalextric Ford Sierra Cosworth Texaco C455 Screen USED - P671 - Fixed Price

Location: Wetherby, United Kingdom
Condition: Used
Current Price: £3.99 GBP
Time Left: 1d 3h 37m 4s
Bids: 0
SCALEXTRIC Slot Car C3910 Ford Sierra RS500 ANZ Sierra Bathurst 1988 - Fixed Price

Location: United Kingdom
Condition: New
Current Price: £36.87 GBP
Time Left: 1d 3h 50m 58s
Bids: 0
Scalextric Ford Sierra RS500 Gravett BTCC 60 Years limited edition No.11 C3781SE - Store Inventory

Location: Stafford, United Kingdom
Condition: New
Current Price: £32.99 GBP
Time Left: 1d 4h 55m 27s
Bids: 0
Scalextric cars Ford Sierra RS Cosworth 1/32 spare parts chassis scrapyard lot - Auction

Location: Sunderland, United Kingdom
Condition: Used
Current Price: £14.00 GBP
Time Left: 1d 5h 5m 30s
Bids: 0
SCALEXTRIC Slot Car Ford Sierra RS500 - BTCC, 1988 - C3738 - Store Inventory

Location: Stourport-on-Severn, United Kingdom
Condition: New
Current Price: £37.99 GBP
Time Left: 1d 5h 24m 6s
Bids: 0
Greenhills Scalextric Slot Car Building Kit Le Mans Pit Boxes 1:32 Scale - Br... - Fixed Price

Location: Wetherby, United Kingdom
Condition: New
Current Price: £35.99 GBP
Time Left: 1d 5h 38m 32s
Bids: 0
Greenhills Scalextric Ford Sierra Cosworth Shell No 17 Chassis plate C469 - U... - Fixed Price

Location: Wetherby, United Kingdom
Condition: Used
Current Price: £4.49 GBP
Time Left: 1d 7h 29m 50s
Bids: 0
Scalextric 1/32 Scale C3781SE - Ford Sierra RS500 BTCC Anniv Special Ed. - Fixed Price

Location: Waterlooville, United Kingdom
Condition: Used
Current Price: £44.99 GBP
Time Left: 1d 13h 2m 33s
Bids: 0
SCALEXTRIC Slot Cars C3738 C3781 BTCC - 2x Ford Sierra RS500 Brands Hatch - Fixed Price

Location: United Kingdom
Condition: New
Current Price: £70.95 GBP
Time Left: 1d 14h 32m 10s
Bids: 0
Scalextric/Superslot H8546 Ford Sierra RS500 PCR Underpan New - Store Inventory

Location: Saltash, United Kingdom
Condition: New
Current Price: £4.99 GBP
Time Left: 2d 10h 11m 6s
Bids: 0
SCALEXTRIC C3868 FORD SIERRA RS500 TOOHEYS 1000 1988 #25 BENSON & HEDGES BNIB - Fixed Price

Location: Longfield, United Kingdom
Condition: New
Current Price: £39.99 GBP
Time Left: 2d 17h 21m 39s
Bids: 0
Scalextric C3910 Ford Sierra Cosworth RS500 James Hardie 1000 Bathurst 1988 - Fixed Price

Location: Longfield, United Kingdom
Condition: New
Current Price: £39.99 GBP
Time Left: 2d 17h 47m 57s
Bids: 0
M/B SCALEXTRIC FORD SIERRA RS500 BATHURST 1000 REF C3740 - Fixed Price

Location: Livingston, United Kingdom
Condition: New
Current Price: £49.99 GBP
Time Left: 3d 0h 59m 13s
Bids: 0
SCALEXTRIC C3781A FORD SIERRA RS500 HORNBY PREVIEW 2018 Car BTCC WITH STICKER! - Fixed Price

Location: Billingham, United Kingdom
Condition: New
Current Price: £69.99 GBP
Time Left: 3d 4h 12m 4s
Bids: 0
Ford Sierra RS500 ANZ Sierra Bathurst 1988 1:32 Scalextric Classic Touring Car - Fixed Price

Location: Sheffield, United Kingdom
Condition: New
Current Price: £35.49 GBP
Time Left: 3d 7h 27m 22s
Bids: 0
Ford Sierra RS500 (Robb Gravett) 1:32 Scalextric Classic Touring Car - Fixed Price

Location: Sheffield, United Kingdom
Condition: New
Current Price: £35.49 GBP
Time Left: 3d 7h 27m 23s
Bids: 0
Ford Sierra RS500 (Steve Soper) 1:32 Scalextric Classic Touring Car - Fixed Price

Location: Sheffield, United Kingdom
Condition: New
Current Price: £35.49 GBP
Time Left: 3d 7h 27m 23s
Bids: 0
Ford Sierra RS500 (1988 Bathurst) 1:32 Scalextric Classic Touring Car - Fixed Price

Location: Sheffield, United Kingdom
Condition: New
Current Price: £35.49 GBP
Time Left: 3d 7h 27m 23s
Bids: 0
C3781 Scalextric Ford Sierra RS500 BTCC Brands Hatch 1990 - Fixed Price

Location: Birmingham, United Kingdom
Condition: New
Current Price: £39.00 GBP
Time Left: 3d 13h 9m 13s
Bids: 0
SCALEXTRIC C3738 Ford Sierra RS500 Steve Soper No.6 NEW HIGHLY DETAILED CAR!!! - Fixed Price

Location: Birmingham, United Kingdom
Condition: New
Current Price: £39.00 GBP
Time Left: 3d 13h 10m 28s
Bids: 0
SCALEXTRIC Digital ARC Pro Slot Car C3868 Ford Sierra RS500, Bathurst 1988 - Fixed Price

Location: United Kingdom
Condition: New
Current Price: £55.95 GBP
Time Left: 3d 14h 42m 8s
Bids: 0
Greenhills Scalextric Slot Car Building Kit German Toilet Block 1:32 Scale - ... - Fixed Price

Location: Wetherby, United Kingdom
Condition: New
Current Price: £18.99 GBP
Time Left: 3d 18h 38m 30s
Bids: 0
Greenhills Scalextric Slot Car Building Kit Italian Toilet Block 1:32 Scale -... - Fixed Price

Location: Wetherby, United Kingdom
Condition: New
Current Price: £18.99 GBP
Time Left: 3d 18h 38m 36s
Bids: 0
Greenhills Scalextric Slot Car Building Kit Spanish Toilet Block 1:32 Scale -... - Fixed Price

Location: Wetherby, United Kingdom
Condition: New
Current Price: £18.99 GBP
Time Left: 3d 18h 38m 43s
Bids: 0
Vintage 1980s Scalextric Ford Sierra Cosworth Interior Glass Windscreen Duckhams - Store Inventory

Location: Birchington, United Kingdom
Condition: Used
Current Price: £4.99 GBP
Time Left: 4d 8h 48m 48s
Bids: 0
Scalextric C137 Police Car Ford Sierra Cosworth Original Box - Auction

Location: Benfleet, United Kingdom
Condition: Used
Current Price: £30.00 GBP
Time Left: 4d 13h 55m 4s
Bids: 0
New Scalextric 1:32nd Scale Ford Sierra RS500 "Steve Soper" Brands Hatch Model. - Store Inventory

Location: St. Neots, United Kingdom
Condition: New
Current Price: £32.99 GBP
Time Left: 4d 14h 28m 37s
Bids: 0
Scalextric Hornby Ford Sierra Cosworth,cossie, C.423, RARE-GOLD WHEELS - Auction

Location: Brentford, United Kingdom
Condition: Used
Current Price: £17.00 GBP
Time Left: 4d 17h 40m 0s
Bids: 0
Greenhills Scalextric Slot Car Building Kit Willow Springs 1:32 Scale - Brand... - Fixed Price

Location: Wetherby, United Kingdom
Condition: New
Current Price: £27.99 GBP
Time Left: 5d 4h 34m 33s
Bids: 0
Greenhills Scalextric Slot Car UK Bleachers Building Kit 1:32 Scale - Brand N... - Fixed Price

Location: Wetherby, United Kingdom
Condition: New
Current Price: £18.99 GBP
Time Left: 5d 5h 27m 43s
Bids: 0
Greenhills Scalextric Slot Car USA Bleachers Building Kit 1:43 Scale - Brand ... - Fixed Price

Location: Wetherby, United Kingdom
Condition: New
Current Price: £16.99 GBP
Time Left: 5d 5h 27m 52s
Bids: 0
Greenhills Scalextric Slot Car Building Kit Goodwood Toilet Block 1:32 Scale ... - Fixed Price

Location: Wetherby, United Kingdom
Condition: New
Current Price: £18.99 GBP
Time Left: 5d 5h 40m 36s
Bids: 0
Greenhills Scalextric Ford Sierra Cosworth Shell No.17 C469 Screens Used - P3219 - Fixed Price

Location: Wetherby, United Kingdom
Condition: Used
Current Price: £4.49 GBP
Time Left: 5d 6h 39m 59s
Bids: 0
Greenhills Scalextric Ford Sierra Cosworth Firestone C456 Screens Used - P3260 - Fixed Price

Location: Wetherby, United Kingdom
Condition: Used
Current Price: £4.49 GBP
Time Left: 5d 8h 9m 25s
Bids: 0
Scalextric C3910 Ford Sierra Cosworth RS500 James Hardie 1000 Bathurst 1988 - Fixed Price

Location: Warrington, United Kingdom
Condition: New
Current Price: £39.99 GBP
Time Left: 5d 9h 43m 33s
Bids: 0
Scalextric C137 Police Car Ford Sierra Cosworth BRAND NEW CRISP BLACK BOX SUPERB - Fixed Price

Location: Birmingham, United Kingdom
Condition: New
Current Price: £60.00 GBP
Time Left: 5d 13h 10m 46s
Bids: 0
Scalextric C3738AE Autograph Series Ford Sierra RS500 Silver Soper No 6 - Store Inventory

Location: Saltash, United Kingdom
Condition: New
Current Price: £51.99 GBP
Time Left: 5d 13h 18m 14s
Bids: 0
Scalextric C408 Ford Sierra Cosworth - #16 Syntron Very Rare Car -Mint Condition - Store Inventory

Location: Halifax, United Kingdom
Condition: Used
Current Price: £59.75 GBP
Time Left: 5d 14h 27m 8s
Bids: 0
Scalextric C456 Ford Cosworth In box - Auction

Location: Newport, United Kingdom
Condition: New
Current Price: £12.50 GBP
Time Left: 5d 14h 38m 45s
Bids: 0
SCALEXTRIC Slot Car C3781 Ford Sierra RS500 - BTCC, Brands Hatch 1990 - Fixed Price

Location: United Kingdom
Condition: New
Current Price: £34.99 GBP
Time Left: 5d 17h 56m 52s
Bids: 0
Greenhills Scalextric Ford Sierra Cosworth Tyre Pair - Used -P3682 - Fixed Price

Location: Wetherby, United Kingdom
Condition: Used
Current Price: £3.49 GBP
Time Left: 6d 4h 45m 15s
Bids: 0
vintage ford sierra Scalextric cars pre-owned vintage - Auction

Location: Rotherham, United Kingdom
Condition: Used
Current Price: £10.00 GBP
Time Left: 6d 5h 8m 42s
Bids: 0
Greenhills Scalextric Ford Sierra Cosworth headlight lenses New - G854 - Fixed Price

Location: Wetherby, United Kingdom
Condition: New
Current Price: £3.49 GBP
Time Left: 6d 6h 34m 41s
Bids: 0
Greenhills Scalextric Slot Car Building Kit Le Mans Toilet Block 1:32 Scale -... - Fixed Price

Location: Wetherby, United Kingdom
Condition: New
Current Price: £19.99 GBP
Time Left: 6d 10h 51m 6s
Bids: 0
Greenhills Scalextric Ford Sierra Cosworth Shell C469 Cabin Interior Used - P... - Fixed Price

Location: Wetherby, United Kingdom
Condition: Used
Current Price: £3.99 GBP
Time Left: 6d 11h 42m 4s
Bids: 0
Greenhills Scalextric Ford Sierra Cosworth Texaco No.6 Cabin Interior C455 - ... - Fixed Price

Location: Wetherby, United Kingdom
Condition: Used
Current Price: £3.99 GBP
Time Left: 6d 15h 47m 21s
Bids: 0
Scalextric Slot Car C4146 Ford Sierra RS500 - Graham Goode Racing - Fixed Price

Location: United Kingdom
Condition: New
Current Price: £34.99 GBP
Time Left: 7d 9h 15m 18s
Bids: 0
Scalextric Digital Slot Car C4146 Ford Sierra RS500 - Graham Goode Racing - Fixed Price

Location: United Kingdom
Condition: New
Current Price: £55.95 GBP
Time Left: 7d 9h 15m 22s
Bids: 0
Scalextric Ford Sierra RS500 No17 John Bowe & Dick Johnson C3740 - Store Inventory

Location: Belper, United Kingdom
Condition: New
Current Price: £66.00 GBP
Time Left: 7d 9h 18m 49s
Bids: 0
Scalextric C3867 Ford Sierra RS500, Labatt's Tim Harvey, mint unused - Fixed Price

Location: Warrington, United Kingdom
Condition: New
Current Price: £39.99 GBP
Time Left: 7d 13h 21m 24s
Bids: 0
Scalextric Car vintage C0469 FORD SIERRA Shell ULTRA No 17 EXCELLENT CONDITION - Auction

Location: Hull, United Kingdom
Condition: Used
Current Price: £12.95 GBP
Time Left: 7d 13h 30m 21s
Bids: 0
Scalextric Car vintage C0455 FORD SIERRA TEXACO No 6 EXCELLENT CONDITION - Auction

Location: Hull, United Kingdom
Condition: Used
Current Price: £12.95 GBP
Time Left: 7d 13h 35m 3s
Bids: 0
SCALEXTRIC C455 FORD SIERRA TEXACO NR MINT CONDITION WORKING FRONT/ BRAKE LIGHTS - Fixed Price

Location: Manchester, United Kingdom
Condition: Used
Current Price: £18.99 GBP
Time Left: 7d 15h 3m 20s
Bids: 0
SCALEXTRIC C469 FORD SIERRA COSWORTH FLETCHER STEEL NR MINT FRONT/ BRAKE LIGHTS - Fixed Price

Location: Manchester, United Kingdom
Condition: Used
Current Price: £18.99 GBP
Time Left: 7d 15h 4m 44s
Bids: 0
SCALEXTRIC Superslot H3740 Ford Sierra RS500 Dick Johnson & John Bowe No.17 NEW - Store Inventory

Location: Eastleigh, United Kingdom
Condition: New
Current Price: £39.95 GBP
Time Left: 8d 4h 59m 27s
Bids: 0
Scalextric Slot Car 1:32 BTCC Multiple Choice of British Touring Car - Fixed Price

Location: United Kingdom
Condition: New
Current Price: £34.99 GBP
Time Left: 8d 6h 24m 12s
Bids: 0
Scalextric Slot Car 1:32 BTCC Multiple Choice of British Touring Car - Fixed Price

Location: United Kingdom
Condition: New
Current Price: £37.95 GBP
Time Left: 8d 6h 24m 12s
Bids: 0
Scalextric C3781SE BTCC Anniversary Special Ford Sierra RS500 Rob Gravett Boxed - Fixed Price

Location: Saltash, United Kingdom
Condition: New
Current Price: £32.99 GBP
Time Left: 8d 7h 45m 43s
Bids: 0
Scalextric C3738SE BTCC Anniversary Special Ford Sierra RS500 Steve Soper Boxed - Fixed Price

Location: Saltash, United Kingdom
Condition: New
Current Price: £32.99 GBP
Time Left: 8d 7h 45m 46s
Bids: 0
SCALEXTRIC Slot Car - C3738SE - BTCC Anniversary Special Edition Ford Sierra - Fixed Price

Location: Hartlepool, United Kingdom
Condition: New
Current Price: £29.95 GBP
Time Left: 8d 12h 12m 11s
Bids: 0
Scalextric C3693A Ford Sierra RS500 vs BMW E30 Ltd Ed - Fixed Price

Location: Selby, United Kingdom
Condition: New
Current Price: £73.99 GBP
Time Left: 8d 16h 42m 59s
Bids: 0
New Scalextric 1:32nd Scale Ford Sierra RS500 "Robb Gravett" Brands Hatch Model. - Store Inventory

Location: St. Neots, United Kingdom
Condition: New
Current Price: £32.99 GBP
Time Left: 9d 15h 49m 53s
Bids: 0
Greenhills Scalextric Slot Car Building Kit German Toilet Block 1:43 Scale - ... - Fixed Price

Location: Wetherby, United Kingdom
Condition: New
Current Price: £15.99 GBP
Time Left: 9d 16h 13m 30s
Bids: 0
Greenhills Scalextric Slot Car Building Kit Italian Toilet Block 1:43 Scale -... - Fixed Price

Location: Wetherby, United Kingdom
Condition: New
Current Price: £15.99 GBP
Time Left: 9d 16h 13m 35s
Bids: 0
Greenhills Scalextric Slot Car Building Model Silverstone Woodcote Grandstand... - Fixed Price

Location: Wetherby, United Kingdom
Condition: New
Current Price: £37.99 GBP
Time Left: 10d 6h 17m 22s
Bids: 0
Scalextric C3738SE Ford Sierra RS500 BTCC 60th #6 228/250 DPR/ LIGHTS BNIB - Store Inventory

Location: Newark, United Kingdom
Condition: New
Current Price: £35.00 GBP
Time Left: 10d 9h 38m 57s
Bids: 0
Scalextric C137 Police Car Ford Sierra Cosworth BRAND NEW CRISP BLACK BOX SUPERB - Fixed Price

Location: Birmingham, United Kingdom
Condition: Used
Current Price: £40.00 GBP
Time Left: 10d 13h 30m 24s
Bids: 0
Greenhills Scalextric Slot Car Building Kit Le Mans Toilet Block 1:43 Scale -... - Fixed Price

Location: Wetherby, United Kingdom
Condition: New
Current Price: £15.99 GBP
Time Left: 11d 3h 36m 21s
Bids: 0
SCALEXTRIC CLASSIC FORD SIERRA COSWORTH SYNTRON-X C408 For Repair - Fixed Price

Location: Heathfield, United Kingdom
Condition: Used
Current Price: £24.00 GBP
Time Left: 11d 9h 8m 30s
Bids: 0
Scalextric Ford Sierra Cosworth. - Fixed Price

Location: Bristol, United Kingdom
Condition: Used
Current Price: £20.00 GBP
Time Left: 11d 11h 32m 39s
Bids: 0
Greenhills Scalextric Slot Car Building Maison Blanche Kit 1:32 scale - Brand... - Fixed Price

Location: Wetherby, United Kingdom
Condition: New
Current Price: £19.99 GBP
Time Left: 11d 12h 57m 34s
Bids: 0
Scalextric C3867AE FORD SIERRA RS500 Tim Harvey Autograph Series NEW Fly SCX - Fixed Price

Location: Selby, United Kingdom
Condition: New
Current Price: £47.50 GBP
Time Left: 11d 14h 39m 38s
Bids: 0
Greenhills Scalextric Ford Sierra Cosworth Mirror Pair - Black with Chrome Fa... - Fixed Price

Location: Wetherby, United Kingdom
Condition: New
Current Price: £5.99 GBP
Time Left: 11d 15h 15m 42s
Bids: 0
Ford Sierra Cosworth on ebay US
Search For: 'scalextric (456,ford sierra)'
Ending Soonest
ITEM
DETAILS
Scalextric 1:32 BTCC Ford Sierra RS500 Steve Soper Slot Car C3738 SCAC3738 - Store Inventory

Location: Saint Charles, MO, USA
Condition: New
Current Price: $34.99 USD
Time Left: 0d 15h 59m 51s
Bids: 0
Scalextric Ford Sierra RS500 TEXACO British Touring Championship 1988 Brands Hat - Fixed Price

Location: Plymouth Meeting, PA, USA
Condition: New
Current Price: $50.00 USD
Time Left: 1d 18h 45m 48s
Bids: 0
Scalextric C3693A Touring Car Legends Twinpack - Ford Sierra RS500 vs BMW E30 - Fixed Price

Location: France
Condition: New
Current Price: $104.39
Time Left: 2d 11h 13m 20s
Bids: 0
Scalextric C3781 Robb Gravatt Ford Sierra Rs500 Back Brands Hatch Slot Car (1:3 - Fixed Price

Location: Cypress, TX, USA
Condition: New
Current Price: $44.00 USD
Time Left: 5d 0h 38m 0s
Bids: 0
Slot Scx Scalextric 65050 Ford Sierra Cosworth - Fixed Price

Location: Spain
Condition: New
Current Price: $69.85 USD
Time Left: 5d 14h 47m 35s
Bids: 0
qq 6247 SCALEXTRIC CLASSIC FORD SIERRA RS COSWORTH RALLY RAC #27 COLIN McRAE - Fixed Price

Location: Spain
Condition: New
Current Price: $74.08 USD
Time Left: 8d 10h 0m 48s
Bids: 0
Scalextric C4146 Ford Sierra RS500 - Graham Goode Racing - Fixed Price

Location: France
Condition: New
Current Price: $51.59
Time Left: 8d 17h 38m 14s
Bids: 0
SALE - Scalextric Slot Car Ford Sierra RS500 1989 Bathurst 1000 C3740 - Store Inventory

Location: Canada
Condition: New
Current Price: $48.00 CAD
Time Left: 8d 19h 25m 40s
Bids: 0
SUPERSLOT C004 FORD SIERRA RS COSWORTH #6 TEXACO SCALEXTRIC UK MB - Fixed Price

Location: Spain
Condition: New
Current Price: $65.44 USD
Time Left: 9d 13h 12m 28s
Bids: 0
SCALEXTRIC SCX 65050 FORD SIERRA RS COSWORTH #1 J.McRAE I.GRINDROD DIRT EFFECT - Fixed Price

Location: Spain
Condition: New
Current Price: $65.44 USD
Time Left: 9d 13h 12m 37s
Bids: 0
SCALEXTRIC C123 FORD SIERRA COSWORTH JANSPEED #10 MB - Fixed Price

Location: Spain
Condition: New
Current Price: $61.73 USD
Time Left: 9d 13h 12m 40s
Bids: 0
SUPERSLOT H3740 FORD SIERRA RS500 #17 DICK JHONSON-JOHN BOWE SCALEXTRIC UK MB - Fixed Price

Location: Spain
Condition: New
Current Price: $61.73 USD
Time Left: 9d 13h 12m 41s
Bids: 0
SUPERSLOT H3781 FORD SIERRA RS #11 BTCC BRANDS HATCH 1990 GRAVETT SCALEXTRIC UK - Fixed Price

Location: Spain
Condition: New
Current Price: $61.73 USD
Time Left: 9d 13h 12m 42s
Bids: 0
SUPERSLOT C031 FORD SIERRA RS COSWORTH #3 MONROE SCALEXTRIC UK MB - Fixed Price

Location: Spain
Condition: New
Current Price: $65.44 USD
Time Left: 9d 13h 12m 44s
Bids: 0
SCALEXTRIC 6483 FORD SIERRA RS COSWORTH #1 J.McRAE I.GRINDROD MB - Fixed Price

Location: Spain
Condition: New
Current Price: $61.73 USD
Time Left: 9d 13h 12m 46s
Bids: 0
SUPERSLOT C001 FORD SIERRA COSWORTH #16 SYNTRON X SCALEXTRIC UK MB - Fixed Price

Location: Spain
Condition: New
Current Price: $61.73 USD
Time Left: 9d 13h 12m 48s
Bids: 0
SUPERSLOT H3738 FORD SIERRA RS500 #6 TEXACO STEVE SOPER SCALEXTRIC UK MB - Fixed Price

Location: Spain
Condition: New
Current Price: $61.73 USD
Time Left: 9d 13h 12m 51s
Bids: 0
SUPERSLOT H3868 FORD SIERRA RS500 #25 TOOHEYS 1000 1988 SCALEXTRIC UK MB - Fixed Price

Location: Spain
Condition: New
Current Price: $61.73 USD
Time Left: 10d 9h 44m 41s
Bids: 0
SUPERSLOT H3867 FORD SIERRA RS500 #3 ESSO RAC BTCC SEASON 1990 SCALEXTRIC UK MB - Fixed Price

Location: Spain
Condition: New
Current Price: $61.73 USD
Time Left: 10d 9h 44m 47s
Bids: 0
Scalextric C3868 Ford Sierra RS500 Bathurst 1988 MIB / New - Store Inventory

Location: Columbus, OH, USA
Condition: New
Current Price: $52.49 USD
Time Left: 10d 13h 48m 18s
Bids: 0
SUPERSLOT H8546 CHASSIS FORD SIERRA RS500 PCR UNDERPAN COM SLOT.IT SCALEXTRIC UK - Fixed Price

Location: Spain
Condition: New
Current Price: $8.63 USD
Time Left: 11d 10h 24m 15s
Bids: 0
Slot Scx Scalextric Superslot H3781 Ford Sierra RS500 Btcc Brands Hatch 1990 - Fixed Price

Location: Spain
Condition: New
Current Price: $64.67 USD
Time Left: 12d 7h 48m 15s
Bids: 0
Slot Car Scalextric Superslot H3740 Ford Sierra RS500 #17 Dick Johnson/John - Fixed Price

Location: Spain
Condition: New
Current Price: $64.67 USD
Time Left: 12d 9h 25m 58s
Bids: 0
Slot Scx Scalextric 6483 Ford Sierra Cosworth Rs " Mcrae " Nº 1 New - Fixed Price

Location: Spain
Condition: New
Current Price: $71.02 USD
Time Left: 12d 9h 25m 59s
Bids: 0
Slot Scx Scalextric Superslot H3868 Ford Sierra RS500 Tooheys 1000 1988 Nº 25 - Fixed Price

Location: Spain
Condition: New
Current Price: $64.68 USD
Time Left: 12d 9h 26m 1s
Bids: 0
Scalextric Scaler Trick 1/32 Slot Car Ford Sierra Rs500 Btcc 1990 No.3 Tim - Fixed Price

Location: Japan
Condition: Used
Current Price: $92.64 USD
Time Left: 12d 11h 9m 37s
Bids: 0
Scalextric Scaler Trick 1/32 Slot Car Ford Sierra Rs500 Bathurst 1988 No.25 - Fixed Price

Location: Japan
Condition: Used
Current Price: $94.35 USD
Time Left: 12d 11h 9m 42s
Bids: 0
U32 CHASSIS 3D FORD SIERRA COSWORTH ONLINE SCALEXTRIC - Fixed Price

Location: Spain
Condition: New
Current Price: $20.98 USD
Time Left: 13d 8h 29m 18s
Bids: 0
Scalextric C3910 Ford Sierra Cosworth RS500 - James Hardie 1000, Bathurst 1988 - Fixed Price

Location: France
Condition: New
Current Price: $51.59
Time Left: 13d 22h 30m 11s
Bids: 0
Scalextric C3868 Ford Sierra RS500 Bathurst 1988 1/32 Slot Car - Fixed Price

Location: Ramsey, NJ, USA
Condition: New
Current Price: $39.95 USD
Time Left: 14d 17h 0m 23s
Bids: 0
Scalextric C3738 BTCC Ford Sierra RS500 Steve Soper Brands 1988 1/32 Slot Car - Fixed Price

Location: Ramsey, NJ, USA
Condition: New
Current Price: $39.95 USD
Time Left: 14d 17h 36m 18s
Bids: 0
Scalextric C3781 Ford Sierra RS500 - BTCC, Brands Hatch 1990 - Fixed Price

Location: France
Condition: New
Current Price: $51.59
Time Left: 14d 23h 8m 11s
Bids: 0
Scalextric C3781 BTCC Ford Sierra RS500 Robb Gravett Brands 1990 1/32 Slot Car - Fixed Price

Location: Ramsey, NJ, USA
Condition: New
Current Price: $29.95 USD
Time Left: 15d 12h 25m 30s
Bids: 0
Scalextric C3738 BTCC Ford Sierra RS500 - Steve Soper, Brands Hatch 1988 - Store Inventory

Location: Jackson, MO, USA
Condition: New
Current Price: $39.99 USD
Time Left: 17d 10h 12m 17s
Bids: 0
Scalextric C3910 Ford Sierra Cosworth RS500 James Hardie 1000 '88: 1/32 Slot Car - Fixed Price

Location: Ramsey, NJ, USA
Condition: New
Current Price: $39.99 USD
Time Left: 17d 17h 59m 31s
Bids: 0
Scalextric 1/32 slot cars FORD SIERRA RS500. Traction Magnets. - Fixed Price

Location: Canandaigua, NY, USA
Condition: Used
Current Price: $27.00 USD
Time Left: 17d 23h 26m 25s
Bids: 0
Scalextric Ford Sierra RS500 Bathurst 1988 Benson & Hedges 25 1:32 Slot Car C3 - Fixed Price

Location: Cypress, TX, USA
Condition: New
Current Price: $50.00 USD
Time Left: 18d 7h 15m 10s
Bids: 0
Scalextric C3738 Ford Sierra RS500 - BTCC, 1988 Brands Hatch - Fixed Price

Location: France
Condition: New
Current Price: $51.59
Time Left: 20d 17h 38m 29s
Bids: 0
Slot Scx Scalextric Superslot H3738 Ford Sierra RS500 Steve (Cobolt " Texaco " - - Fixed Price

Location: Spain
Condition: New
Current Price: $71.02 USD
Time Left: 21d 6h 58m 57s
Bids: 0
Scalextric Ford Sierra Cosworth RS500, James Hardie 1000 '88 1:32 slot car C3910 - Fixed Price

Location: Morrisville, PA, USA
Condition: New
Current Price: $38.95 USD
Time Left: 21d 13h 16m 5s
Bids: 0
Ford Sierra Cosworth on ebay Australia
Search For: 'scalextric (456,ford sierra)'
Ending Soonest
ITEM
DETAILS
SCALEXTRIC C3910 FORD SIERRA RS500 1988 BATHURST.MOFFAT,HANSFORD,NIEDZWIEDZ. - Auction

Location: Epping, NSW, Australia
Condition: New
Current Price: $85.00 AUD
Time Left: 0d 3h 25m 17s
Bids: 0
SCALEXTRIC Ford Sierra Rs500 Anz Sierra Bathurst 1988 - 57-C3910 - Fixed Price

Location: Castle Hill, NSW, Australia
Condition: New
Current Price: $79.95 AUD
Time Left: 1d 2h 6m 4s
Bids: 0
Scalextric set vintage Bathurst Brock Ford Sierra Cosworth - Auction

Location: Box Hill North, VIC, Australia
Condition: Used
Current Price: $200.00 AUD
Time Left: 4d 1h 4m 42s
Bids: 0
Scalextric Ford Sierra RS500 Graham Goode Racing - Fixed Price

Location: Broadmeadow, NSW, Australia
Condition: New
Current Price: $94.99 AUD
Time Left: 5d 0h 57m 11s
Bids: 0
SCALEXTRIC 1/32 FORD SIERRA RS500 BATHURST 1988 SX3868 - Store Inventory

Location: Osborne Park, WA, Australia
Condition: New
Current Price: $79.95 AUD
Time Left: 10d 22h 56m 28s
Bids: 0
1/32 SCALEXTRIC SLOT CAR FORD SIERRA RS500 1988 BATHURST WINNER LONGHURST C3868 - Store Inventory

Location: Wynnum, QLD, Australia
Condition: New
Current Price: $79.99 AUD
Time Left: 13d 18h 22m 36s
Bids: 0
C3868 SCALEXTRIC FORD SIERRA RS500 BENSON & HEDGES BATHURST 1988 LONGHURST 1:32 - Store Inventory

Location: Leongatha, VIC, Australia
Condition: New
Current Price: $74.95 AUD
Time Left: 13d 22h 24m 19s
Bids: 0
C4146 SCALEXTRIC FORD SIERRA RS500 LISTERINE GRAHAM GOODE RACING 1:32 SCALE - Store Inventory

Location: Preston, VIC, Australia
Condition: New
Current Price: $73.95 AUD
Time Left: 14d 2h 45m 57s
Bids: 0
Scalextric 1/32 Ford Sierra RS500 1988 Bathurst No.9 c3910 - Fixed Price

Location: Red Hill, VIC, Australia
Condition: New
Current Price: $84.99 AUD
Time Left: 14d 4h 37m 51s
Bids: 0
Scalextric – 1/32 Scale – Ford Sierra Cosworth RS500 1988 Bathurst #9 Slot Car - Store Inventory

Location: Frankston, VIC, Australia
Condition: New
Current Price: $69.00 AUD
Time Left: 15d 22h 47m 56s
Bids: 0
Scalextric C3910 Ford Sierra RS500 1988 Bathurst # 9. Brand New In Case. - Fixed Price

Location: Croydon, VIC, Australia
Condition: New
Current Price: $72.50 AUD
Time Left: 16d 22h 51m 13s
Bids: 0
C3910 SCALEXTRIC FORD SIERRA RS500 ALLAN MOFFAT ANZ BATHURST 1988 - Store Inventory

Location: Preston, VIC, Australia
Condition: New
Current Price: $74.95 AUD
Time Left: 19d 3h 35m 30s
Bids: 0
FORD SIERRA RS500 ANZ BATHURST '88 *-SCALEXTRIC - Fixed Price

Location: Sydney, NSW, Australia
Condition: New
Current Price: $72.99 AUD
Time Left: 20d 3h 0m 55s
Bids: 0
C3868 SCALEXTRIC FORD SIERRA RS500 BENSON & HEDGES 1988 BATHURST 1:32 SCALE - Store Inventory

Location: Preston, VIC, Australia
Condition: New
Current Price: $73.95 AUD
Time Left: 20d 3h 36m 12s
Bids: 0
SCALEXTRIC 1/32 Ford Sierra Cosworth RS500 - James Hardie Bathurst 1988 SX3910 - Store Inventory

Location: Osborne Park, WA, Australia
Condition: New
Current Price: $79.95 AUD
Time Left: 22d 3h 12m 52s
Bids: 0
NEW SCALEXTRIC 1:32 FORD SIERRA RS500 COSWORTH BATHURST 88 MOFFAT SLOT CAR 3910 - Store Inventory

Location: Heidelberg Heights, VIC, Australia
Condition: New
Current Price: $69.99 AUD
Time Left: 23d 1h 12m 38s
Bids: 0
Scalextric: Ford Sierra RS500 - 1989 Bathurst 1000 - Slot Car - Fixed Price

Location: New Zealand
Condition: New
Current Price: $76.36 AUD
Time Left: 27d 17h 29m 37s
Bids: 0
SCALEXTRIC LEGENDS FORD SIERRA RS500 vs BMW E30 SET SX3693A - Store Inventory

Location: Osborne Park, WA, Australia
Condition: New
Current Price: $155.95 AUD
Time Left: 28d 1h 12m 32s
Bids: 0
Scalextric C4146 Ford Sierra RS500 Graham Goode Racing Slot Car Brand New - Fixed Price

Location: Box Hill, VIC, Australia
Condition: New
Current Price: $79.99 AUD
Time Left: 30d 1h 49m 37s
Bids: 0