Car Year Details
1989 - Ford Capri 3.0s
6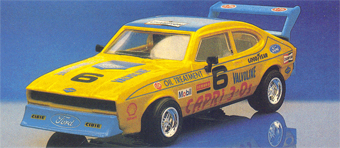 Car:
Ford Capri 3.0s
(Overall Item page)
Number:
6
Information:
Length - 5 3/8" - 137mm.
Category:
Cars

Category Details:
Classic cars from all eras.
Car Category:
Rally

Car Category Details:
Point to point auto racing over many different terrains.
Make:
Ford
Logo:
Ford Emblem
Logo Years:
Since 1927
Make Details:
Ford revolutionised car production by expanding and refining the car assembly line concept in the early 1900's.
Make Country:
United States
Model:
Capri Mk III

Model Details:
The Capri Mk III was manufactured by Ford of Europe in the United Kingdom, Belgium and Germany.
Model Production Years:
1978 - 1986
Base Colour:
Yellow

Colour Details:
Various shades of yellow.
All Colours:
Yellow, Blue


Year:
1989
Catalogue Number:
C.379
Year Information:
All the Scalextric Rally Cars are fitted with a standard type motor, rear axle contrate drive gear and pick-up system.
However, they have different driving characteristics due to varying centres of gravity, wheel/tyre sizes, weight, wheel track etc.
Thus rallying with mixed car types will be as interesting as with real cars and, of course, the design of the track circuit will have an influence on the result.
Motor:
---
Publication Name:
Scalextric - 30th Edition - 1/32 Scale
Publication Type:
Catalogue
Publication Edition:
30th Edition

Logo & Box Design:


Item Ranking:
Current: 25 -
August 2020
Previous: 29 -
July 2020
Movement:

(+4)
Car Year Details
(9)
Service Sheets
(0)
| SHEET NO | SERVICE SHEET NAME | ISSUE DATE |
| --- | --- | --- |
Ford Capri 3.0s on ebay UK
Search For: 'scalextric (379,capri)'
Ending Soonest
ITEM
DETAILS
REALLY USEFUL Repro Scalextric RUB16 CAPRI CHROME BUMPERS FRONT & REAR RUSC - Store Inventory

Location: Stockport, United Kingdom
Condition: New
Current Price: £6.95 GBP
Time Left: 0d 22h 45m 17s
Bids: 0
Scalextric Classic Track Wide to Narrow Straight Chicane (PAIR) 379 Marked Rails - Auction

Location: Market Rasen, United Kingdom
Condition: Used
Current Price: £1.50 GBP
Time Left: 1d 1h 45m 43s
Bids: 0
Scalextric 1980s Retro Cars/Parts - C136 Ferrari 312 T3 & Ford Capri 3L Mk.3 - Auction

Location: Colchester, United Kingdom
Condition: Used
Current Price: £17.95 GBP
Time Left: 2d 5h 33m 39s
Bids: 0
Scalextric C2060 Capri 3.0s Blue Limited Edition of 1000 - Fixed Price

Location: Warrington, United Kingdom
Condition: Used
Current Price: £75.00 GBP
Time Left: 2d 21h 17m 46s
Bids: 0
Scalextric L5372 Ford Capri Drivers Platform EXCELLENT - Fixed Price

Location: Colchester, United Kingdom
Condition: Used
Current Price: £3.49 GBP
Time Left: 4d 3h 43m 48s
Bids: 0
Scalextric L5372 L5846 Ford Capri Drivers Platform EXCELLENT - Fixed Price

Location: Colchester, United Kingdom
Condition: Used
Current Price: £4.49 GBP
Time Left: 4d 3h 45m 32s
Bids: 0
Greenhills Scalextric Ford Capri Black Rear Wing - NEW - G2354 - Fixed Price

Location: Wetherby, United Kingdom
Condition: New
Current Price: £3.84 GBP
Time Left: 4d 21h 3m 41s
Bids: 0
Scalextric C311 Ford Capri 3.0s WITH WORKING F & R LIGHTS MINT - Fixed Price

Location: Birmingham, United Kingdom
Condition: Used
Current Price: £65.00 GBP
Time Left: 5d 7h 34m 10s
Bids: 0
SCALEXTRIC JAGUAR LE MANS USED IN BRILLIANT CONDITION SEE ALL PHOTOS RARE CAR - Fixed Price

Location: Birmingham, United Kingdom
Condition: Used
Current Price: £30.00 GBP
Time Left: 5d 7h 45m 1s
Bids: 0
SUPER RARE* SCALEXTRIC * V * REG * MKIII * FORD * CAPRI * 1979 * MINDER * DOUBLE - Fixed Price

Location: Margate, United Kingdom
Condition: Used
Current Price: £79.99 GBP
Time Left: 5d 19h 14m 40s
Bids: 0
SCALEXTRIC FORD CAPRI INTERIOR L5372 L5846 - Auction

Location: Ayr, United Kingdom
Condition: Used
Current Price: £3.20 GBP
Time Left: 5d 22h 27m 0s
Bids: 0
SCALEXTRIC C117 FORD CAPRI. - Auction

Location: Cowes, United Kingdom
Condition: Used
Current Price: £9.99 GBP
Time Left: 6d 5h 28m 26s
Bids: 0
RUSC Really Useful Spares - reproduction SCALEXTRIC mirrors - Store Inventory

Location: Stockport, United Kingdom
Condition: New
Current Price: £1.99 GBP
Time Left: 10d 0h 29m 19s
Bids: 0
Scalextric C2060 Capri 3.0s Blue Limited Edition of 1000 new - Fixed Price

Location: Bedford, United Kingdom
Condition: New
Current Price: £80.00 GBP
Time Left: 11d 1h 0m 21s
Bids: 0
Scalextric Ford Capri 3.0s Street Car Limited Edition Very Rare C2059 3 litre - Fixed Price

Location: Bedford, United Kingdom
Condition: New
Current Price: £80.00 GBP
Time Left: 11d 1h 0m 57s
Bids: 0
Scalextric C.379 Ford Capri Rally Special - Store Inventory

Location: Eastleigh, United Kingdom
Condition: New
Current Price: £100.00 GBP
Time Left: 13d 8h 39m 59s
Bids: 0
SCALEXTRIC C2059 Ford Capri 3.0s Street Car Limited Edition Very Rare 472/1000 - Fixed Price

Location: Birmingham, United Kingdom
Condition: New
Current Price: £65.00 GBP
Time Left: 15d 4h 41m 25s
Bids: 0
Scalextric Classic Track Wide to Narrow Straight Chicane (PAIR) 379 Marked Rails - Fixed Price

Location: Stockton-on-Tees, United Kingdom
Condition: Used
Current Price: £3.80 GBP
Time Left: 15d 13h 46m 10s
Bids: 0
SCALEXTRIC C2059 & C2060 FORD CAPRI'S 3.0 BLUE & GREEN BRAND NEW VERY RARE!!! - Fixed Price

Location: Birmingham, United Kingdom
Condition: New
Current Price: £180.00 GBP
Time Left: 16d 5h 39m 5s
Bids: 0
RL 580 Scalextric REPRO REAR AEROFOIL HIGH WING FOR C379 AND C311 FORD CAPRI - Store Inventory

Location: Stockport, United Kingdom
Condition: New
Current Price: £2.00 GBP
Time Left: 17d 2h 44m 18s
Bids: 0
FLY 1/32 - FORD CAPRI RS TURBO DRM HOCKENHEIM 1978 HANS HEYER CAR SCALEXTRIC - Store Inventory

Location: Market Harborough, United Kingdom
Condition: Used
Current Price: £39.99 GBP
Time Left: 18d 3h 15m 16s
Bids: 0
RED STRIPE AIRFIX 1:32 ( Scalextric scale) Mk.I FORD CAPRI ROAD CAR KIT BOXED - Fixed Price

Location: Tamworth, United Kingdom
Condition: New
Current Price: £200.00 GBP
Time Left: 18d 21h 32m 50s
Bids: 0
Really Useful Spares Repro Scalextric Mirrors RUM3 CAPRI 3L PAIR black plastic - Store Inventory

Location: Stockport, United Kingdom
Condition: New
Current Price: £1.99 GBP
Time Left: 21d 5h 15m 39s
Bids: 0
CARRERA 20027605 FORD CAPRI ZAKSPEED #3 BNIB SCALEXTRIC COMPATIBLE - Store Inventory

Location: Stockport, United Kingdom
Condition: New
Current Price: £38.00 GBP
Time Left: 22d 1h 25m 45s
Bids: 0
SCALEXTRIC C379 FORD CAPRI RALLY SPECIAL LOFT FIND MINT BOXED RARE TO FIND!!!!!! - Fixed Price

Location: Birmingham, United Kingdom
Condition: New
Current Price: £90.00 GBP
Time Left: 25d 5h 30m 52s
Bids: 0
SCALEXTRIC C.379 FORD CAPRI RALLY SPECIAL TOTALLY COMPLETE GREAT BODYWORK - Fixed Price

Location: Birmingham, United Kingdom
Condition: New
Current Price: £35.00 GBP
Time Left: 25d 5h 39m 9s
Bids: 0
Scalextric C311 Ford Capri 3.0s WITH WORKING F & R LIGHTS MINT - Fixed Price

Location: Birmingham, United Kingdom
Condition: Used
Current Price: £63.00 GBP
Time Left: 25d 5h 43m 18s
Bids: 0
SCALEXTRIC WHITE FORD CAPRI 3.0s WITH WORKING FRONT & REAR LIGHTS MINT!!! - Fixed Price

Location: Birmingham, United Kingdom
Condition: Used
Current Price: £75.00 GBP
Time Left: 25d 5h 52m 50s
Bids: 0
Scalextric - Porsche & Ford Capri ( Made In Great Britain - 1980's ) - Fixed Price

Location: London, United Kingdom
Condition: Used
Current Price: £52.99 GBP
Time Left: 26d 8h 15m 7s
Bids: 0
VINTAGE SCALEXTRIC - FORD CAPRI 3 LITRE - DRIVERS MIRROR & REAR LIGHT MISSING - Fixed Price

Location: Abergavenny, United Kingdom
Condition: Used
Current Price: £28.50 GBP
Time Left: 26d 21h 59m 27s
Bids: 0
Really Useful Spares Repro Scalextric RUA08 CAPRI Rear aerofoil- BLACK - Store Inventory

Location: Stockport, United Kingdom
Condition: New
Current Price: £3.00 GBP
Time Left: 27d 5h 22m 41s
Bids: 0
Vintage Scalextric Ford Capri Driver Platform L5372 1:32 Slot Car - Fixed Price

Location: St. Albans, United Kingdom
Condition: Used
Current Price: £4.99 GBP
Time Left: 27d 21h 32m 48s
Bids: 0
Vintage Scalextric Ford Capri Driver Platform L5372 1:32 Slot Car - Fixed Price

Location: St. Albans, United Kingdom
Condition: Used
Current Price: £4.99 GBP
Time Left: 27d 21h 37m 55s
Bids: 0
REALLY USEFUL Repro Scalextric RUB09 CAPRI PAIR OF BUMPERS FRONT & REAR RUSC - Store Inventory

Location: Stockport, United Kingdom
Condition: New
Current Price: £4.95 GBP
Time Left: 28d 6h 30m 49s
Bids: 0
SCALEXTRIC C300 RED FORD CAPRI 3.0s WITH WORKING FRONT & REAR LIGHTS MINT!!! - Fixed Price

Location: Birmingham, United Kingdom
Condition: Used
Current Price: £75.00 GBP
Time Left: 29d 5h 47m 2s
Bids: 0
SCALEXTRIC BROCHURE 31ST EDITION FORD RS COSWORTH BATMAN SETS AUDI CAPRI BMW M3 - Store Inventory

Location: Bristol, United Kingdom
Condition: Used
Current Price: £6.99 GBP
Time Left: 29d 7h 33m 18s
Bids: 0
Fly A141L FORD CAPRI RS Turbo Zolder 1979 + WORKING LIGHTS - NEW Scalextric - Fixed Price

Location: Birmingham, United Kingdom
Condition: New
Current Price: £59.99 GBP
Time Left: 29d 11h 5m 38s
Bids: 0
Fly A144L FORD CAPRI RS Turbo Hockenheim 1978 + WORKING LIGHTS - NEW Scalextric - Fixed Price

Location: Birmingham, United Kingdom
Condition: New
Current Price: £64.99 GBP
Time Left: 29d 11h 20m 32s
Bids: 0
Fly A144 FORD CAPRI RS Turbo Hockenheim 1978 - NEW Scalextric - Fixed Price

Location: Birmingham, United Kingdom
Condition: New
Current Price: £44.99 GBP
Time Left: 29d 11h 22m 19s
Bids: 0
Fly A145 FORD CAPRI RS Turbo Nurburgring 1982 - NEW Scalextric - Fixed Price

Location: Birmingham, United Kingdom
Condition: New
Current Price: £59.99 GBP
Time Left: 29d 11h 26m 22s
Bids: 0
Fly A145L FORD CAPRI RS Turbo Nurburgring 1982 + WORKING LIGHTS - NEW Scalextric - Fixed Price

Location: Birmingham, United Kingdom
Condition: New
Current Price: £63.99 GBP
Time Left: 29d 11h 28m 35s
Bids: 0
Fly A146 FORD CAPRI RS Turbo Zolder 1981 - NEW Scalextric - Fixed Price

Location: Birmingham, United Kingdom
Condition: New
Current Price: £49.99 GBP
Time Left: 29d 11h 31m 38s
Bids: 0
Fly A147L 99005 FORD CAPRI RS Turbo Zolder 1980 WORKING LIGHTS - NEW Scalextric - Fixed Price

Location: Birmingham, United Kingdom
Condition: New
Current Price: £79.99 GBP
Time Left: 29d 11h 36m 49s
Bids: 0
Fly A149 FORD CAPRI RS Turbo Zolder 1982 - NEW Scalextric - Fixed Price

Location: Birmingham, United Kingdom
Condition: New
Current Price: £54.99 GBP
Time Left: 29d 11h 40m 13s
Bids: 0
Fly A148 FORD CAPRI RS Turbo Zolder 1983 - NEW Scalextric - Fixed Price

Location: Birmingham, United Kingdom
Condition: New
Current Price: £49.99 GBP
Time Left: 29d 11h 43m 51s
Bids: 0
Fly A151 88144 FORD CAPRI RS Turbo Norisring 1982 - NEW Scalextric - Fixed Price

Location: Birmingham, United Kingdom
Condition: New
Current Price: £49.99 GBP
Time Left: 29d 11h 47m 48s
Bids: 0
Fly E141 FORD CAPRI RS Turbo UK Special Edition Gaugemaster - NEW Scalextric - Fixed Price

Location: Birmingham, United Kingdom
Condition: New
Current Price: £74.99 GBP
Time Left: 29d 11h 51m 48s
Bids: 0
Ford Capri 3.0s on ebay US
Search For: 'scalextric (379,capri)'
Ending Soonest
Ford Capri 3.0s on ebay Australia
Search For: 'scalextric (379,capri)'
Ending Soonest