Car Year Details
1979 - March 240 (March Livery)

10
Car:
March 240 (March Livery)
(Overall Item page)
Number:
10
Information:
March Livery.
Category:
Cars

Category Details:
Classic cars from all eras.
Car Category:
F1GP

Car Category Details:
Formula One Grand Prix.
Make:
March Engineering

Logo:
March Logo
Logo Years:
---
Make Details:
A racing car manufacturer, the March team raced in Formula 1 from 1970 to 1992.
Make Country:
United Kingdom
Model:
2-4-0

Model Details:
The 2-4-0 was an experimental six wheeled F1GP car.
Model Production Years:
1976
Base Colour:
Blue

Colour Details:
Various shades of mid blue.
Year:
1979
Catalogue Number:
C.129
Year Information:
Six wheel racing cars have attracted tremendous attention and interest over the last few seasons and is is fitting that a six wheeler should be included in the Scalextric range. The theory of the six wheel March was that on conventional racing cars large wheels at the back of the car disturb air flow around the rear of the car and create 'drag'. However, to reduce them in size would mean less surface in contact with the track and a corresponding reduction in road holding and car control. March did reduce the wheels in size and compensated for the loss in tyre surface area by having four rear wheels instead of two!
Motor:
---
Publication Name:
Scalextric - Electric Model Racing - 20th Edition
Publication Type:
Catalogue
Publication Edition:
20th Edition

Logo & Box Design:

Item Ranking:
Current: 665 -
May 2022
Previous: 618 -
April 2022
Movement:

(-47)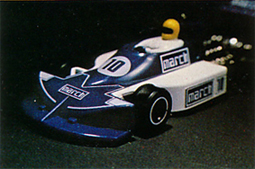 Car Year Details
(1)
Sets Included In
(1)
Service Sheets
(2)
| SHEET NO | SERVICE SHEET NAME | ISSUE DATE |
| --- | --- | --- |
| 102C | C.126 Lotus 77, C.131 March Ford 711, C.134 Elf Renault Turbo RS-01, C.135 Elf Tyrrell 008, C.136 Ferrari 312 T3, C.137 Ligier JS11, C.138 Saudia Leyland Williams FW07B | February 1981 |
| 102C (Back) | C.126 Lotus 77, C.131 March Ford 711, C.134 Elf Renault Turbo RS-01, C.135 Elf Tyrrell 008, C.136 Ferrari 312 T3, C.137 Ligier JS11, C.138 Saudia Leyland Williams FW07B - Back | February 1981 |
March 240 (March Livery) on ebay US
Search For: 'scalextric (129,march 240)'