Car Details
Indycar - Toshiba
24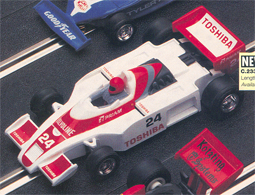 Years Released: 1991 1992 (Item Year pages)
Item released for 2 years.
Car:
Indycar - Toshiba
Number:
24
Information:
Length - 5 1/8" - 131mm.
Category:
Cars

Category Details:
Classic cars from all eras.
Car Category:
Indycar

Car Category Details:
A descriptive name for championship open-wheel auto racing in the United States, derived from the Indianapolis 500.
Base Colour:
White

Colour Details:
The perfect colour.
All Colours:
White, Red
Logo & Box Style:

1991
1992
Make:
Renault

Logo:
Renault Logo
Logo Years:
---
Make Details:
Renault, founded in 1899, has produces a large range of motor vehicles for over 100 years.
Make Country:
France
Model:
RS01

Model Details:
The first Formula 1 car powered by a turbo engine.
Model Production Years:
1977 - 1979
Item Ranking:
Current: 535 -
August 2020
Previous: 642 -
July 2020
Movement:

(+107)
Car Year Details
(2)
All Colours
(2)
| COLOUR | DETAILS | IMAGE |
| --- | --- | --- |
| White | The perfect colour. | |
| Red | Various shades of red. | |
Item Year Information
YEAR
INFORMATION
1991
Motor racing in the international classes needs the skill that only comes from experience. Top drivers have to work their way up from the bottom. Scalextric provides cars for less experienced drivers. They are fitted with standard motors, gearing and pick-ups but have less elaborate bodywork and decoration. They are toughly built to withstand the inevitable pile-ups and ill-judged leaps to be expected from would-be champions.
1992
Many of today's top Formula One racing drivers developed their skill in the smaller and less powerful single seat racing cars during their younger years.
The selection of cars on these pages are based on the type of car used for the 'first drive' and have been robustly constructed to withstand the knocks and bumps of the future Formula One driver.
Service Sheets
(1)
| SHEET NO | SERVICE SHEET NAME | ISSUE DATE |
| --- | --- | --- |
| 157 | Graves, Panasonic, Pennzoil, Toshiba | March 1992 |
Catalogue Images
(2)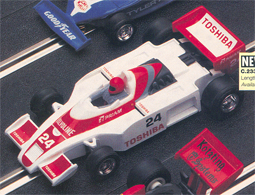 C.233 Indycar - Toshiba - 1991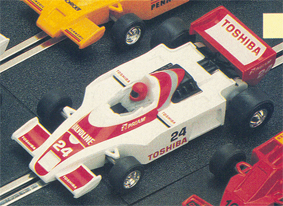 C.233 Indycar - Toshiba - 1992
Indycar - Toshiba on ebay UK
Search For: 'scalextric (233,indy car)'
Ending Soonest
ITEM
DETAILS
SCALEXTRIC A233 ENTRANCE BUILDING collectable rare old toy part - Auction

Location: Harrogate, United Kingdom
Condition: Used
Current Price: £23.00 GBP
Time Left: 0d 11h 34m 49s
Bids: 0
NEW Scalextric W8743 Rear Wing Spoiler For Coca Cola Dallara Indy Car C2515 - Store Inventory

Location: Birchington, United Kingdom
Condition: New
Current Price: £3.99 GBP
Time Left: 0d 15h 55m 8s
Bids: 0
NEW Genuine Scalextric W8830 Rear Wing Spoiler For AT&T Dallara Indy Car C2498 - Store Inventory

Location: Birchington, United Kingdom
Condition: New
Current Price: £3.99 GBP
Time Left: 1d 11h 30m 9s
Bids: 0
Scalextric US Indy Car racing Slot Cars - Auction

Location: Abingdon, United Kingdom
Condition: Used
Current Price: £19.99 GBP
Time Left: 1d 12h 57m 37s
Bids: 2
Scalextric Triang Buildings Job Lot A233 F302 A211 Spares Repair - Auction

Location: Lymington, United Kingdom
Condition: Used
Current Price: £50.00 GBP
Time Left: 3d 6h 51m 56s
Bids: 1
Scalextric C2606 Indy Car Club Car (rare, discontinued) Excellent Condition - Auction

Location: Crowborough, United Kingdom
Condition: Used
Current Price: £19.99 GBP
Time Left: 3d 7h 9m 18s
Bids: 0
Greenhills Scalextric Carrera Photographer 1.32 Scale - NEW - F233 - Fixed Price

Location: Wetherby, United Kingdom
Condition: New
Current Price: £14.29 GBP
Time Left: 3d 7h 45m 39s
Bids: 0
Classic Scalextric A233 Entrance Building with ORIGINAL GATES, FENCING & BOX - Auction

Location: London, United Kingdom
Condition: Used
Current Price: £45.00 GBP
Time Left: 3d 13h 2m 0s
Bids: 0
Scalextric - C233 Renault Toshiba Indy car - No 24 Excellent/near mint condition - Auction

Location: Bexleyheath, United Kingdom
Condition: Used
Current Price: £12.95 GBP
Time Left: 4d 16h 39m 12s
Bids: 0
Scalextric - W8690 Dallara Indy Car Accessory Pack - Mirrors / Airbox - NEW - Store Inventory

Location: Cardiff, United Kingdom
Condition: New
Current Price: £1.25 GBP
Time Left: 4d 19h 3m 13s
Bids: 0
Scalextric A233 Rare Red French Batiment d'Entree, mint condition and boxed - Fixed Price

Location: Warrington, United Kingdom
Condition: Used
Current Price: £850.00 GBP
Time Left: 5d 10h 37m 1s
Bids: 0
Greenhills Scalextric Vintage Power Sledge / Indy car front tyres pair - USED... - Fixed Price

Location: Wetherby, United Kingdom
Condition: Used
Current Price: £5.10 GBP
Time Left: 5d 13h 3m 31s
Bids: 0
NEW Scalextric W8807 Rear Wing Spoiler For Pirelli Dallara Indy Car C2518 - Store Inventory

Location: Birchington, United Kingdom
Condition: New
Current Price: £3.99 GBP
Time Left: 6d 13h 11m 57s
Bids: 0
Scalextric Indy Car. Dallara Sport. Great Condition - Auction

Location: Stockton-on-Tees, United Kingdom
Condition: Used
Current Price: £6.50 GBP
Time Left: 6d 13h 58m 54s
Bids: 0
SCALEXTRIC BNIB C630 INDY CAR EUROSPORT - Store Inventory

Location: Altrincham, United Kingdom
Condition: New
Current Price: £42.49 GBP
Time Left: 6d 14h 27m 32s
Bids: 0
Vintage 1960s Triang Scalextric A/233 Circuit Entrance building with turnstile - Auction

Location: Ashford, United Kingdom
Condition: Used
Current Price: £19.99 GBP
Time Left: 6d 15h 16m 15s
Bids: 0
C2394 Scalextric Dallara Indy Car – #52 Tomas Scheckter - Auction

Location: Exeter, United Kingdom
Condition: Used
Current Price: £6.10 GBP
Time Left: 8d 14h 57m 55s
Bids: 2
C2442 Scalextric Dallara Indy Car – #4 Sam Hornish Jr. - Auction

Location: Exeter, United Kingdom
Condition: Used
Current Price: £9.10 GBP
Time Left: 8d 14h 58m 23s
Bids: 4
SCALEXTRIC RARE VINTAGE ENTRANCE BUILDING - A233 - Fixed Price

Location: Woking, United Kingdom
Condition: Used
Current Price: £34.95 GBP
Time Left: 9d 9h 7m 40s
Bids: 0
Greenhills Scalextric Grooved Tyres for Indy Car Rear / Power sledge Rear Pai... - Fixed Price

Location: Wetherby, United Kingdom
Condition: Used
Current Price: £4.39 GBP
Time Left: 10d 6h 0m 46s
Bids: 0
Greenhills Scalextric Porsche 911 / 935 Turbo Cabin Interior P233 - Fixed Price

Location: Wetherby, United Kingdom
Condition: Used
Current Price: £4.39 GBP
Time Left: 10d 13h 24m 16s
Bids: 0
Triang Scalextric A233 Entrance Building (Boxed) 1002 - Store Inventory

Location: Peterborough, United Kingdom
Condition: Used
Current Price: £45.50 GBP
Time Left: 12d 11h 32m 23s
Bids: 0
Greenhills Scalextric Accessory Pack for Dallara Indy Car Rear Wing C2650 - W... - Fixed Price

Location: Wetherby, United Kingdom
Condition: New
Current Price: £4.94 GBP
Time Left: 13d 12h 28m 49s
Bids: 0
RL Q W9103 SCALEXTRIC ORIGINAL SPARES C2572 DALLARA INDY CAR REAR WING - Store Inventory

Location: Stockport, United Kingdom
Condition: New
Current Price: £3.95 GBP
Time Left: 16d 7h 43m 51s
Bids: 0
SCALEXTRIC C2443 Dallara Indy Car "CORTECO" No.7 Factory Approved Sample - Store Inventory

Location: Eastleigh, United Kingdom
Condition: New
Current Price: £64.95 GBP
Time Left: 18d 4h 54m 37s
Bids: 0
Scalextric 1960's A238 TIMEKEEPERS A233 ENTRANCE (COMING EVENTS BOARD) ENGLISH - Store Inventory

Location: Bristol, United Kingdom
Condition: Used
Current Price: £14.99 GBP
Time Left: 18d 7h 51m 47s
Bids: 0
NEW Genuine Scalextric W8858 Rear Wing Spoiler For Racer Dallara Indy Car C2606 - Store Inventory

Location: Birchington, United Kingdom
Condition: New
Current Price: £3.99 GBP
Time Left: 18d 10h 7m 22s
Bids: 0
Scalextric - C2606 - Dallara Indy Car - Collector's Club 2004 - Boxed - Store Inventory

Location: Waltham Cross, United Kingdom
Condition: Used
Current Price: £19.99 GBP
Time Left: 18d 12h 47m 49s
Bids: 0
Scalextric c630 Indy Car Eurosport, ex shop stock - Fixed Price

Location: Warrington, United Kingdom
Condition: Used
Current Price: £45.00 GBP
Time Left: 19d 6h 24m 30s
Bids: 0
Scalextric French A233 Batiment d'Entree, great condition and boxed. - Fixed Price

Location: Warrington, United Kingdom
Condition: Used
Current Price: £280.00 GBP
Time Left: 20d 11h 38m 18s
Bids: 0
New Scalextric W9103 Dallara Andretti Indy Car Rear Wing Spoiler For (C2572) - Store Inventory

Location: Birchington, United Kingdom
Condition: New
Current Price: £2.99 GBP
Time Left: 21d 5h 1m 5s
Bids: 0
New Scalextric W9104 Dallara Indy Car 'Arca-Ex' Rear Wing Spoiler For (C2571) - Store Inventory

Location: Birchington, United Kingdom
Condition: New
Current Price: £3.99 GBP
Time Left: 21d 5h 1m 5s
Bids: 0
NEW Genuine Scalextric W9356 Dallara Indy Car Rear Wing Spoiler For (C2650) - Store Inventory

Location: Birchington, United Kingdom
Condition: New
Current Price: £2.99 GBP
Time Left: 21d 5h 1m 6s
Bids: 0
Scalextric W9108 Dallara Indy Car Front Wheels Tyres Axle Suspension C2571 NEW - Store Inventory

Location: Birchington, United Kingdom
Condition: New
Current Price: £3.99 GBP
Time Left: 21d 5h 28m 23s
Bids: 0
Scalextric W9243 Dallara Indy Car Rear Wheels Tyres Axle Suspension Gear NEW - Store Inventory

Location: Birchington, United Kingdom
Condition: New
Current Price: £3.99 GBP
Time Left: 21d 5h 28m 24s
Bids: 0
SCALEXTRIC discontinued mint boxed penzzoil Indy car ref c534 - Fixed Price

Location: Livingston, United Kingdom
Condition: New
Current Price: £39.99 GBP
Time Left: 22d 3h 24m 11s
Bids: 0
1990's Scalextric TEAM DURACELL Indy Car - C194 hardly used and in original box - Store Inventory

Location: Musselburgh, United Kingdom
Condition: Used
Current Price: £27.95 GBP
Time Left: 22d 17h 49m 1s
Bids: 0
Scalextric Dallara Indy Car Rear Wing Code W9356 - Fixed Price

Location: York, United Kingdom
Condition: New
Current Price: £4.95 GBP
Time Left: 23d 6h 5m 0s
Bids: 0
SCALEXTRIC Slot Car C377 L5184 Ferrari 312T3 Tyler Autos + Renault RS01 Indy Car - Fixed Price

Location: King's Lynn, United Kingdom
Condition: Used
Current Price: £29.95 GBP
Time Left: 24d 7h 46m 37s
Bids: 0
INDY CAR " TEAM DURACELL " SCALEXTRIC C.194 - Fixed Price

Location: United Kingdom
Condition: Used
Current Price: £45.99 GBP
Time Left: 24d 8h 50m 58s
Bids: 0
Scalextric Dallara Indy Car Number 7 Code C2515 Full Service. Complete Car. - Fixed Price

Location: York, United Kingdom
Condition: Used
Current Price: £20.00 GBP
Time Left: 25d 10h 49m 25s
Bids: 0
NEW Scalextric W8694 Rear Wing Spoiler For Corteco Dallara Indy Car C2516 - Store Inventory

Location: Birchington, United Kingdom
Condition: New
Current Price: £3.99 GBP
Time Left: 25d 12h 12m 44s
Bids: 0
Greenhills Scalextric Renault RS01 Toshiba C233 Chassis Plate / Underpan - Us... - Fixed Price

Location: Wetherby, United Kingdom
Condition: Used
Current Price: £4.94 GBP
Time Left: 26d 3h 13m 38s
Bids: 0
Greenhills Scalextric Renault RS01 Toshiba Front Axle & Wheels C233 - Used - ... - Fixed Price

Location: Wetherby, United Kingdom
Condition: Used
Current Price: £3.84 GBP
Time Left: 26d 3h 14m 3s
Bids: 0
Scalextric - W8743 Dallara Indy Car Rear Wing "Bridgestone" - NEW - Store Inventory

Location: Cardiff, United Kingdom
Condition: New
Current Price: £3.00 GBP
Time Left: 26d 4h 2m 48s
Bids: 0
Scalextric C233 Renault Toshiba Indy Boxed Tested - Fixed Price

Location: Hook, United Kingdom
Condition: Used
Current Price: £29.99 GBP
Time Left: 26d 9h 52m 44s
Bids: 0
NEW Scalextric W8802 Rear Wing Spoiler For Gulf Dallara Indy Car C2517 - Store Inventory

Location: Birchington, United Kingdom
Condition: New
Current Price: £3.99 GBP
Time Left: 26d 11h 12m 51s
Bids: 0
Greenhills Scalextric Renault RS01 Toshiba Rear Axle & Wheels C233 - Used - P... - Fixed Price

Location: Wetherby, United Kingdom
Condition: Used
Current Price: £4.39 GBP
Time Left: 28d 14h 49m 39s
Bids: 0
Scalextric Vintage Entrance Building A233 - Fixed Price

Location: London, United Kingdom
Condition: Used
Current Price: £40.00 GBP
Time Left: 29d 15h 54m 19s
Bids: 0
Scalextric - W8745 Dallara Indy Car Accessory Pack - Mirrors / Airbox - NEW - Store Inventory

Location: Cardiff, United Kingdom
Condition: New
Current Price: £1.25 GBP
Time Left: 30d 18h 49m 18s
Bids: 0
Indycar - Toshiba on ebay US
Search For: 'scalextric (233,indy car)'
Ending Soonest
Indycar - Toshiba on ebay Australia
Search For: 'scalextric (233,indy car)'
Ending Soonest
ITEM
DETAILS
Scalextric C2606 - Dallara Indy Car 'Excellent Condition' - BOXED - Auction

Location: Sale, VIC, Australia
Condition: Used
Current Price: $35.00 AUD
Time Left: 3d 5h 7m 0s
Bids: 0
Scalextric W9108 Dallara Indy Car Front Wheel Assemb C2571 Fit C2443 C2516 C2650 - Store Inventory

Location: Magill, SA, Australia
Condition: New
Current Price: $13.89 AUD
Time Left: 4d 7h 43m 24s
Bids: 0
Scalextric W9102 Dallara Indy Car Accessory Bag (C2571) - Store Inventory

Location: Magill, SA, Australia
Condition: New
Current Price: $16.89 AUD
Time Left: 4d 20h 14m 46s
Bids: 0
Scalextric W9104 Dallara Indy Car Rear Wing (eg. C2752) - Store Inventory

Location: Magill, SA, Australia
Condition: New
Current Price: $11.89 AUD
Time Left: 6d 6h 10m 21s
Bids: 0
Scalextric W9103 Dallara Indy Car Rear Wing 7-Eleven Flat Rate UK/US Shippin - Store Inventory

Location: Magill, SA, Australia
Condition: New
Current Price: $11.89 AUD
Time Left: 6d 6h 53m 10s
Bids: 0
Scalextric W9243 Dallara Indy Car Rear Wheel Assembly + 1 Pinion C2572 etc - Store Inventory

Location: Magill, SA, Australia
Condition: New
Current Price: $16.89 AUD
Time Left: 14d 8h 34m 28s
Bids: 0
Scalextric W9106 Dallara Indy Car Underpan (eg.C2752) - Store Inventory

Location: Magill, SA, Australia
Condition: New
Current Price: $13.89 AUD
Time Left: 19d 7h 18m 46s
Bids: 0
Scalextric W9356 Dallara Indy Car Rear Wing e.g. C2650 - Store Inventory

Location: Magill, SA, Australia
Condition: New
Current Price: $11.39 AUD
Time Left: 28d 4h 55m 31s
Bids: 0