Set Details
Grand Prix Set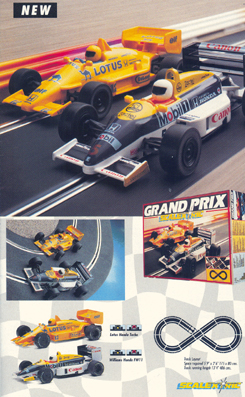 Years Released: 1992 (Item Year pages)
Item released for 1 year.
Item:
Grand Prix Set
Information:
---
Category:
Sets

Category Details:
Scalextric sets from all eras.
Logo & Box Style:

1992
Item Ranking:
Current: 258 -
August 2020
Previous: 250 -
July 2020
Movement:

(-8)
Set Year Details
(1)
Set Items
(2)
Set Year Information
YEAR
INFORMATION
1992
Mains Power Pack included.
Tuned to perfection Formula One cars are the thoroughbreds of single sealer racers. Their power is awesome; the skill required to drive them is immense.
With the Grand Prix tot the William and Lotus are equally matched on the fast figure 8 circuit, and with the strategically placed crash barriers, super fast racing is guaranteed.
Each highly detailed car is fitted with Magnatraction for improved road holding. And watch the rear of both cars as they decelerate as a quick flash of light simulates the excess fuel burning off in the exhaust.
As a precaution the aerofoils on both vehicles are detachable, thus avoiding permanent damage should an accident occur.
Service Sheets
(0)
| SHEET NO | SERVICE SHEET NAME | ISSUE DATE |
| --- | --- | --- |
Catalogue Images
(1)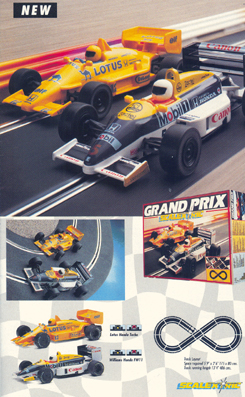 C.644 Grand Prix Set - 1992
Grand Prix Set on ebay UK
Search For: 'scalextric grand prix set'
Ending Soonest
ITEM
DETAILS
SCALEXTRIC C653 GRAND PRIX BOXED SET - Auction

Location: Wrexham, United Kingdom
Condition: Used
Current Price: £29.00 GBP
Time Left: 0d 16h 9m 50s
Bids: 0
VINTAGE BOXED HORNBY SCALEXTRIC GRAND PRIX SET + 3 CARS/TRACK/CONTROLERS 99P - Auction

Location: Dundee, United Kingdom
Condition: Used
Current Price: £11.55 GBP
Time Left: 0d 21h 15m 10s
Bids: 3
Scalextric 1961 Grand Prix GP 2 Set A3 Size Poster Advert Shop Display Sign - Store Inventory

Location: Bicester, United Kingdom
Condition: New
Current Price: £6.99 GBP
Time Left: 2d 14h 2m 38s
Bids: 0
Vintage Scalextric Grand Prix Set C.698...COMPLETE.... - Auction

Location: Poulton-le-Fylde, United Kingdom
Condition: Used
Current Price: £9.99 GBP
Time Left: 2d 16h 50m 54s
Bids: 0
VINTAGE SCALEXTRIC GRAND PRIX F1 POLE POSITION Set 1990'S good condition - Fixed Price

Location: Mitcham, United Kingdom
Condition: Used
Current Price: £45.00 GBP
Time Left: 2d 20h 6m 54s
Bids: 0
Original 1960s Grand Prix 50 Scalextric Set - Complete In Original Box - Auction

Location: Tewkesbury, United Kingdom
Condition: Used
Current Price: £50.00 GBP
Time Left: 3d 15h 38m 16s
Bids: 0
Scalextric Set 80 4 Lane Grand Prix boxed, pre 1980, 4 cars need attention - Fixed Price

Location: Manchester, United Kingdom
Condition: Used
Current Price: £95.00 GBP
Time Left: 4d 2h 12m 11s
Bids: 0
Scalextric Grand Prix 9 Set - Circa 1974 - Boxed - Fixed Price

Location: Edinburgh, United Kingdom
Condition: Used
Current Price: £29.99 GBP
Time Left: 4d 18h 3m 9s
Bids: 0
Classic 1960's Scalextric Grand Prix Set 50. In Complete & Working Condition. - Auction

Location: Stroud, United Kingdom
Condition: Used
Current Price: £34.95 GBP
Time Left: 6d 22h 25m 48s
Bids: 0
SCALEXTRIC Sport CLASSIC 1957 German Grand Prix Set - Limited Edition of 5000 - Fixed Price

Location: Dunmow, United Kingdom
Condition: Used
Current Price: £79.99 GBP
Time Left: 9d 13h 46m 36s
Bids: 0
SCALEXTRIC SETS CLASSIC + MICRO + EXTRAS - click SELECT to view INDIVIDUAL items - Fixed Price

Location: Sevenoaks, United Kingdom
Condition: Used
Current Price: £59.00 GBP
Time Left: 10d 11h 6m 35s
Bids: 0
Micro Scalextric Set Grand Prix Vecta F1 Vs McLaren F1 9 Layouts - Store Inventory

Location: Drybrook, United Kingdom
Condition: Used
Current Price: £49.95 GBP
Time Left: 10d 23h 48m 28s
Bids: 0
SCALEXTRIC SETS CLASSIC, MICRO + PARTS - click SELECT to view INDIVIDUAL items - Fixed Price

Location: Sevenoaks, United Kingdom
Condition: Used
Current Price: £74.00 GBP
Time Left: 11d 12h 5m 17s
Bids: 0
Scalextric Digital A1 Grand Prix Team GB & Team France Rare Set Cars - Fixed Price

Location: Belper, United Kingdom
Condition: Used
Current Price: £69.00 GBP
Time Left: 12d 17h 55m 11s
Bids: 0
FRENCH TRIANG SCALEXTRIC SET (GPI) MODELES GRAND PRIX (BOXED) C1960 - Fixed Price

Location: Great Yarmouth, United Kingdom
Condition: Used
Current Price: £299.00 GBP
Time Left: 13d 3h 44m 45s
Bids: 0
VINTAGE 1990s SCALEXTRIC Grand Prix F1 POLE POSITION Set GOOD WORKING CONDITION - Fixed Price

Location: Warrington, United Kingdom
Condition: Used
Current Price: £99.99 GBP
Time Left: 13d 19h 36m 13s
Bids: 0
Triang Scalextric 1960ís Set (GP1) Grand Prix Series Boxed. - Fixed Price

Location: Colchester, United Kingdom
Condition: Used
Current Price: £200.00 GBP
Time Left: 15d 18h 58m 3s
Bids: 0
FORMULA TYCO NIGEL MANSELL Grand Prix Vintage Car Racing Set - Like Scalextric - Fixed Price

Location: Rugby, United Kingdom
Condition: Used
Current Price: £29.99 GBP
Time Left: 16d 18h 24m 1s
Bids: 0
1970ís Retro Scalextric Racing track set - Grand Prix 75 set - Fixed Price

Location: Lutterworth, United Kingdom
Condition: Used
Current Price: £50.00 GBP
Time Left: 17d 16h 33m 4s
Bids: 0
VINTAGE 1960s TRIANG SCALEXTRIC GRAND PRIX MOTOR RACING SET OUTFIT No. 50, BOXED - Store Inventory

Location: Chertsey, United Kingdom
Condition: Used
Current Price: £60.00 GBP
Time Left: 17d 21h 44m 15s
Bids: 0
Vintage Scalextric Grand Prix 50 Set Instruction Manual - Fixed Price

Location: Attleborough, United Kingdom
Condition: Used
Current Price: £4.99 GBP
Time Left: 19d 20h 58m 41s
Bids: 0
TRIANG SCALEXTRIC SET (GP1) GRAND PRIX SERIES (BOXED) C1960 - Fixed Price

Location: Feltham, United Kingdom
Condition: Used
Current Price: £295.95 GBP
Time Left: 20d 21h 18m 20s
Bids: 0
ARTIN Classic Formula One Grand Prix Set 1:43 Scale 4M Track Scalextric Parts - Fixed Price

Location: Stockport, United Kingdom
Condition: Used
Current Price: £50.00 GBP
Time Left: 21d 22h 58m 22s
Bids: 0
Greenhills Scalextric Accessory pack Grand Prix set Start cars DPR plate C138... - Fixed Price

Location: Wetherby, United Kingdom
Condition: New
Current Price: £6.42 GBP
Time Left: 24d 13h 48m 34s
Bids: 0
Vintage Scalextric Instruction. Grand Prix 50 Set Instruction Manual - Fixed Price

Location: Attleborough, United Kingdom
Condition: Used
Current Price: £2.99 GBP
Time Left: 26d 13h 11m 36s
Bids: 0
SCALEXTRIC SETS MICRO + CLASSIC + PARTS - click SELECT to view INDIVIDUAL items - Fixed Price

Location: Sevenoaks, United Kingdom
Condition: Used
Current Price: £79.00 GBP
Time Left: 28d 11h 22m 12s
Bids: 0
Scalextric A1 Grand Prix Team GB & Team France Rare Set Cars Fully Serviced VGC - Store Inventory

Location: Belper, United Kingdom
Condition: Used
Current Price: £48.00 GBP
Time Left: 28d 16h 44m 44s
Bids: 0
Grand Prix Set on ebay US
Search For: 'scalextric grand prix set'
Ending Soonest
ITEM
DETAILS
SCALEXTRIC Sport CLASSIC 1957 German Grand Prix Set - Limited Edition of 5000 - Auction

Location: Santa Clarita, CA, USA
Condition: Used
Current Price: $120.00 USD
Time Left: 5d 23h 7m 38s
Bids: 0
Vintage Scalextric 1:32 Track & Components from a GP.33 Grand Prix Series set - Fixed Price

Location: North Andover, MA, USA
Condition: Used
Current Price: $22.50 USD
Time Left: 8d 15h 45m 22s
Bids: 0
Scalextric C4084A Tyrrell P34 Swedish Grand Prix 1976 - 2 cars 1/32 Slot Car Set - Store Inventory

Location: Philadelphia, PA, USA
Condition: New
Current Price: $109.99 USD
Time Left: 10d 1h 52m 40s
Bids: 0
VINTAGE LIONEL TRI-ANG SCALEXTRIC GRAND PRIX SERIES SLOT CAR SET W/BOX - Store Inventory

Location: Denver, CO, USA
Condition: Used
Current Price: $160.00 USD
Time Left: 13d 4h 39m 36s
Bids: 0
COMPLETE Scalextric Grand Prix Slot Car Racing Set - Store Inventory

Location: Willowbrook, IL, USA
Condition: Used
Current Price: $100.00 USD
Time Left: 25d 17h 15m 19s
Bids: 0
Tri-Ang Scalextric Grand Prix Series Slot Car Set Allstate (HSE) 1/32nd - Fixed Price

Location: Garden Valley, CA, USA
Condition: Used
Current Price: $300.00 USD
Time Left: 27d 22h 17m 51s
Bids: 0
Used Vintage Scalextric Slot Car Grand Prix Series Model Motor Racing Set GPS! - Store Inventory

Location: Somerville, NJ, USA
Condition: Used
Current Price: $499.99 USD
Time Left: 29d 4h 51m 21s
Bids: 0
Grand Prix Set on ebay Australia
Search For: 'scalextric grand prix set'
Ending Soonest