Car Year Details
1979 - Triumph TR7

11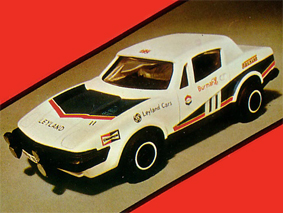 Car:
Triumph TR7
(Overall Item page)
Number:
11
Information:
---
Category:
Cars

Category Details:
Classic cars from all eras.
Car Category:
Rally

Car Category Details:
Point to point auto racing over many different terrains.
Make:
Triumph

Logo:
Triumph Logo
Logo Years:
---
Make Details:
Triumph started making cars in 1921, producing some famous designs.
Make Country:
United Kingdom
Model:
TR7

Model Details:
The TR7 was a successful rally car and famous for its distinctive wedge shaped design.
Model Production Years:
1975 - 1981
Base Colour:
White

Colour Details:
The perfect colour.
Year:
1979
Catalogue Number:
C.130
Year Information:
This highly exciting two-seater sports car has proved a great success for Leyland, who have probably the best rally driver in this country in Tony Pond driving for them. The new red livery Leyland TR7 carries the more powerful 3 1/2 litre V8 engine which has increased the power and speed of the TR7 to place it firmly amongst the main contenders in any rally. The Leyland TR7 V8 made its rally debut in April 1978 and won a hard fought and fiercely competitive race. The Scalextric TR7 is moulded in red to match Leyland's new racing livery.
* Original catalogue image not available for this year. Using alternative image.
Motor:
---
Publication Name:
Scalextric - Electric Model Racing - 20th Edition
Publication Type:
Catalogue
Publication Edition:
20th Edition

Logo & Box Design:

Item Ranking:
Current: 613 -
May 2022
Previous: 615 -
April 2022
Movement:

(+2)
Car Year Details
(2)
Service Sheets
(2)
| SHEET NO | SERVICE SHEET NAME | ISSUE DATE |
| --- | --- | --- |
| 100C | C.109 Escort Mexico, C.110 Mini Clubman, C.112 Mini Clubman, C.113 Triumph TR7, C.114 Triumph TR7, C.115 Porsche Turbo 935, C.116 BMW 3.0 CSL, C.117 3.0 Ford Capri | September 1976 |
| 100C (Back) | C.109 Escort Mexico, C.110 Mini Clubman, C.112 Mini Clubman, C.113 Triumph TR7, C.114 Triumph TR7, C.115 Porsche Turbo 935, C.116 BMW 3.0 CSL, C.117 3.0 Ford Capri - Back | September 1976 |
Triumph TR7 on ebay US
Search For: 'scalextric (130,triumph tr7)'