Car Year Details
1973 - Ford Mirage
Various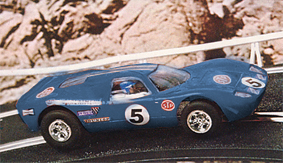 Car:
Ford Mirage
(Overall Item page)
Number:
Various
Information:
---
Category:
Cars

Category Details:
Classic cars from all eras.
Car Category:
Endurance

Car Category Details:
A car racing class concentrating on the ability of manufacturers to build reliable yet sporty cars.
Make:
Ford
Logo:
Ford Emblem
Logo Years:
Since 1927
Make Details:
Ford revolutionised car production by expanding and refining the car assembly line concept in the early 1900ís.
Make Country:
United States
Model:
Mirage M1

Model Details:
The Mirage M1 was based on the Ford GT40 and used the Ford GT40 V8 engine.
Model Production Years:
1967
Base Colour:
Blue

Colour Details:
Various shades of mid blue.
Year:
1973
Catalogue Number:
C.015
Year Information:
Sports Car. Class 2. The powerful and purposeful appearance of this model is well matched by its performance.
* Original catalogue image not available for this year. The colour of this image has been altered to suit.
Motor:
---
Publication Name:
Scalextric - Model Motor Racing
Publication Type:
Catalogue
Publication Edition:
14th Edition

Logo & Box Design:


Item Ranking:
Current: 12 -
May 2022
Previous: 36 -
April 2022
Movement:

(+24)
Car Year Details
(6)
Sets Included In
(1)
Service Sheets
(2)
| SHEET NO | SERVICE SHEET NAME | ISSUE DATE |
| --- | --- | --- |
| S5 | C.3, C.4, C.15, C.16, C.17, C.18, C.19, C.22, C.24 | April 1971 |
| 101 | Tiger, Mirage, Ferrari P.4 & Lamborghini - C.013, C.015, C.016, C.017 | June 1974 |
Ford Mirage on ebay US
Search For: 'scalextric (15,ford mirage)'