Car Details
Rover 3500

7
Years Released: 1982 1983 (Item Year pages)
Item released for 2 years.
Car:
Rover 3500
Number:
7
Information:
---
Category:
Cars

Category Details:
Classic cars from all eras.
Car Category:
Rally

Car Category Details:
Point to point auto racing over many different terrains.
Base Colour:
Blue

Colour Details:
Various shades of mid blue.
All Colours:
Blue, Yellow
Logo & Box Style:

1982
1983
Make:
Rover

Logo:
Rover Logo
Logo Years:
---
Make Details:
Rover, originally a bicycle maker, went on to produce its first car in 1904.
Make Country:
United Kingdom
Model:
3500

Model Details:
In 1977, the Rover 3500 won the title of European Car of the Year.
Model Production Years:
1976 - 1986
Item Ranking:
Current: 337 -
October 2019
Previous: 464 -
September 2019
Movement:

(+127)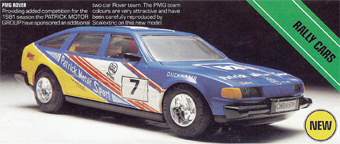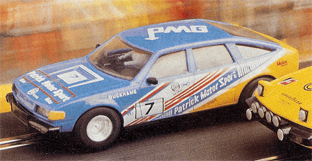 Car Year Details
(2)
Sets Included In
(1)
All Colours
(2)
| COLOUR | DETAILS | IMAGE |
| --- | --- | --- |
| Blue | Various shades of mid blue. | |
| Yellow | Various shades of yellow. | |
Item Year Information
YEAR
INFORMATION
1982
Providing added competition for the 1981 season the PATRICK MOTOR GROUP have sponsored an additional two car Rover team. The PMG team colours are very attractive and have been carefully reproduced by Scalextric on this new model.
Entering the 1981 Tricentrol RAC British Saloon Car Championships as direct competitors to BL the Patrick Motors Group took on 3 formidable task. They backed a team of two V8's prepared to full Group 1 specifications by S.R.G Racing at Biggleswade. Driven by Rex Greenslade and Brian Muir the PMG Rovers put up some fine performances. With an engine producing approximately 250b.h.p. at G800r.p.m. the 3500 Rovers always put on an exciting display at any race meeting.
1983
The Patrick Motors Group Hover is on important contender in the Tricentrol RAC British Saloon Car Championships (Group 1). Throughout the past two seasons PMG have been competing with the works racing Rovers. These Scalextric models feature chrome effect wheels, separate wing mirrors and highly detailed liveries.
Service Sheets
(0)
| SHEET NO | SERVICE SHEET NAME | ISSUE DATE |
| --- | --- | --- |
Catalogue Images
(2)

C.280 Rover 3500 - 1982

C.280 Rover 3500 - 1983
Rover 3500 on ebay UK
Search For: 'scalextric (280,rover 3500)'
Ending Soonest
ITEM
DETAILS
Scalextric C315 - Rover 3500 Police - White - Auction

Location: Westhill, United Kingdom
Condition: Used
Current Price: £20.00 GBP
Time Left: 1d 6h 16m 44s
Bids: 7
Greenhills Scalextric Rover 3500 Griptrack Tyre Pair - NEW G1768 - Fixed Price

Location: Wetherby, United Kingdom
Condition: New
Current Price: £3.99 GBP
Time Left: 4d 9h 19m 36s
Bids: 0
SCALEXTRIC ROVER 3500 NSCC 1996 LE SILVER C562 1.32 BNIB LIMITED EDITION - Store Inventory

Location: West Malling, United Kingdom
Condition: New
Current Price: £59.99 GBP
Time Left: 5d 0h 16m 9s
Bids: 0
Scalextric vintage Rover 3500 Litre V8 police car Superb, fast with roof light - Auction

Location: Sandbach, United Kingdom
Condition: Used
Current Price: £2.20 GBP
Time Left: 5d 10h 4m 36s
Bids: 3
Scalextric Rover 3500 Police with Lights & Siren C315 White - Auction

Location: Haverhill, United Kingdom
Condition: New
Current Price: £65.99 GBP
Time Left: 6d 21h 17m 5s
Bids: 0
Scalextric job lot 3 cars...Cooper c66- Rover 3500 Police Patrol Car C362 -C284 - Auction

Location: Herne Bay, United Kingdom
Condition: Used
Current Price: £39.00 GBP
Time Left: 8d 7h 20m 15s
Bids: 0
Bargain Scalextric Ultimate Endurance with Lots of Extras - Used twice cost £280 - Auction

Location: Telford, United Kingdom
Condition: Used
Current Price: £0.99 GBP
Time Left: 8d 9h 12m 51s
Bids: 1
Scalextric vintage Porsche / Rover / Escort / TR7 / BMW car various spares - VGC - Store Inventory

Location: Sandbach, United Kingdom
Condition: Used
Current Price: £1.49 GBP
Time Left: 9d 11h 3m 49s
Bids: 0
Scalextric vintage Porsche / Rover / Escort / TR7 / BMW car various spares - VGC - Store Inventory

Location: Sandbach, United Kingdom
Condition: Used
Current Price: £2.99 GBP
Time Left: 9d 11h 3m 49s
Bids: 0
Scalextric vintage Porsche / Rover / Escort / TR7 / BMW car various spares - VGC - Store Inventory

Location: Sandbach, United Kingdom
Condition: Used
Current Price: £1.49 GBP
Time Left: 9d 11h 3m 49s
Bids: 0
Scalextric vintage Porsche / Rover / Escort / TR7 / BMW car various spares - VGC - Store Inventory

Location: Sandbach, United Kingdom
Condition: Used
Current Price: £1.49 GBP
Time Left: 9d 11h 3m 49s
Bids: 0
Scalextric vintage Porsche / Rover / Escort / TR7 / BMW car various spares - VGC - Store Inventory

Location: Sandbach, United Kingdom
Condition: Used
Current Price: £2.49 GBP
Time Left: 9d 11h 3m 49s
Bids: 0
Scalextric vintage Porsche / Rover / Escort / TR7 / BMW car various spares - VGC - Store Inventory

Location: Sandbach, United Kingdom
Condition: Used
Current Price: £2.99 GBP
Time Left: 9d 11h 3m 49s
Bids: 0
Scalextric vintage Porsche / Rover / Escort / TR7 / BMW car various spares - VGC - Store Inventory

Location: Sandbach, United Kingdom
Condition: Used
Current Price: £1.49 GBP
Time Left: 9d 11h 3m 49s
Bids: 0
Scalextric vintage Porsche / Rover / Escort / TR7 / BMW car various spares - VGC - Store Inventory

Location: Sandbach, United Kingdom
Condition: Used
Current Price: £1.99 GBP
Time Left: 9d 11h 3m 49s
Bids: 0
Scalextric vintage Porsche / Rover / Escort / TR7 / BMW car various spares - VGC - Store Inventory

Location: Sandbach, United Kingdom
Condition: Used
Current Price: £1.99 GBP
Time Left: 9d 11h 3m 49s
Bids: 0
Scalextric vintage Porsche / Rover / Escort / TR7 / BMW car various spares - VGC - Store Inventory

Location: Sandbach, United Kingdom
Condition: Used
Current Price: £1.49 GBP
Time Left: 9d 11h 3m 49s
Bids: 0
Scalextric vintage Porsche / Rover / Escort / TR7 / BMW car various spares - VGC - Store Inventory

Location: Sandbach, United Kingdom
Condition: Used
Current Price: £2.49 GBP
Time Left: 9d 11h 3m 49s
Bids: 0
Scalextric Classic Rover 3500 SD1 - Rear bumper L5520 N.O.S. - Fixed Price

Location: Bexleyheath, United Kingdom
Condition: New
Current Price: £3.95 GBP
Time Left: 10d 4h 27m 33s
Bids: 0
SCALEXTRIC ROVER 3500 TOURING CAR PMG LIVERY RARE GOOD CONDITION UNBOXED - Fixed Price

Location: Birmingham, United Kingdom
Condition: Used
Current Price: £30.00 GBP
Time Left: 10d 8h 16m 17s
Bids: 0
Greenhills Scalextric Rover 3500 Police Patrol Car C362 - Used - 21022 - Fixed Price

Location: Wetherby, United Kingdom
Condition: Used
Current Price: £21.99 GBP
Time Left: 10d 21h 46m 53s
Bids: 0
Scalextric Rover 3500 Track Marshalls Car - NEW Boxed C340 FREE UK P&P - Fixed Price

Location: United Kingdom
Condition: New
Current Price: £149.99 GBP
Time Left: 10d 22h 31m 32s
Bids: 0
Greenhills Scalextric Rover 3500 headlight lenses New- G806 - Fixed Price

Location: Wetherby, United Kingdom
Condition: New
Current Price: £2.99 GBP
Time Left: 12d 5h 47m 4s
Bids: 0
SCALEXTRIC COLLECTORS C561 ROVER 3500 NSCC 1996 LTD ED BNIB CRISP BLACK BOX - Store Inventory

Location: Stockport, United Kingdom
Condition: New
Current Price: £55.00 GBP
Time Left: 13d 3h 6m 30s
Bids: 0
Really Useful Spares Repro Scalextric Mirrors RUM4 ROVER 3500 PAIR - Store Inventory

Location: Stockport, United Kingdom
Condition: New
Current Price: £1.99 GBP
Time Left: 13d 23h 2m 9s
Bids: 0
Greenhills Scalextric Rover 3500 Police Car C362 - Used - 21190 - Fixed Price

Location: Wetherby, United Kingdom
Condition: Used
Current Price: £20.99 GBP
Time Left: 15d 20h 45m 52s
Bids: 0
Scalextric Rover 3500 in PMG livery - Fixed Price

Location: Leicester, United Kingdom
Condition: Used
Current Price: £19.00 GBP
Time Left: 16d 3h 15m 43s
Bids: 0
Scalextric Rover 3500 #7 PMG C280 VG+B Slot Car Boxed - Fixed Price

Location: Rotherham, United Kingdom
Condition: Used
Current Price: £85.00 GBP
Time Left: 17d 7h 53m 38s
Bids: 0
Vintage Rover 3500 SDI Scalextric Car C280 BOXED CAR IS COMPLETE SUPERB LOW USE! - Fixed Price

Location: Birmingham, United Kingdom
Condition: Used
Current Price: £35.00 GBP
Time Left: 17d 8h 13m 23s
Bids: 0
Scalextric Rover 3500 " Marshall " Car 'Rare - Fixed Price

Location: St. Ives, United Kingdom
Condition: Used
Current Price: £110.00 GBP
Time Left: 17d 19h 53m 53s
Bids: 0
Scalextric Bundle - Police Rover 3500 & Ford Sierra Cosworth Firestone - Fixed Price

Location: Crymych, United Kingdom
Condition: Used
Current Price: £25.00 GBP
Time Left: 19d 11h 13m 41s
Bids: 0
Greenhills Scalextric Rover 3500 Taurus Front Axle / Wheels / Tyres C384 New ... - Fixed Price

Location: Wetherby, United Kingdom
Condition: New
Current Price: £5.99 GBP
Time Left: 21d 21h 48m 29s
Bids: 0
Greenhills Scalextric Rover 3500 Police Car C284 - Used - 20310 - Fixed Price

Location: Wetherby, United Kingdom
Condition: Used
Current Price: £24.99 GBP
Time Left: 22d 3h 58m 33s
Bids: 0
Vintage Scalextric C.280 Rover 3500 #7 PMG - Store Inventory

Location: Hailsham, United Kingdom
Condition: Used
Current Price: £40.00 GBP
Time Left: 23d 3h 44m 41s
Bids: 0
Scalextric C562 Rover 3500cc NSCC 1996 - Fixed Price

Location: Warrington, United Kingdom
Condition: New
Current Price: £80.00 GBP
Time Left: 25d 7h 3m 57s
Bids: 0
SCALEXTRIC C330 ROVER 3500 SD1 GOLDEN WONDER NEW BOXED - Fixed Price

Location: Bristol, United Kingdom
Condition: New
Current Price: £79.99 GBP
Time Left: 25d 7h 42m 18s
Bids: 0
SCALEXTRIC TRIPLEX ROVER 3500 UNBOXED IN FANTASTIC CONDITION TOTALLY COMPLETE!! - Fixed Price

Location: Birmingham, United Kingdom
Condition: Used
Current Price: £35.00 GBP
Time Left: 25d 8h 13m 32s
Bids: 0
Scalextric C384 Rover 3500 Texaco No.9 - Fixed Price

Location: Birmingham, United Kingdom
Condition: Used
Current Price: £85.00 GBP
Time Left: 25d 8h 14m 25s
Bids: 0
SCALEXTRIC ROVER 3500cc GREEN NSCC 1996 C561 LE 1.32 NEW OLD STOCK - Store Inventory

Location: West Malling, United Kingdom
Condition: New
Current Price: £59.99 GBP
Time Left: 26d 0h 17m 50s
Bids: 0
Greenhills Scalextric Slot Car Buildings Reims Starter Pack Kit 1:32 Scale - ... - Fixed Price

Location: Wetherby, United Kingdom
Condition: New
Current Price: £56.99 GBP
Time Left: 26d 2h 48m 39s
Bids: 0
SCALEXTRIC ROVER 3500 POLICE CAR SLOT CAR SPARES 1/32 SCALE W11 - Store Inventory

Location: Coventry, United Kingdom
Condition: Used
Current Price: £19.50 GBP
Time Left: 27d 1h 36m 1s
Bids: 0
Vintage 1980s Scalextric TR7 Rover 3500 911 Wheels Axles Gear Tyres Bearings - Store Inventory

Location: Birchington, United Kingdom
Condition: Used
Current Price: £4.99 GBP
Time Left: 28d 4h 51m 46s
Bids: 0
Vintage 1980s Scalextric Porsche 911 TR7 Rover 3500 Wheels Axles Gear NEW TYRES - Store Inventory

Location: Birchington, United Kingdom
Condition: Used
Current Price: £4.99 GBP
Time Left: 30d 1h 27m 38s
Bids: 0
Rover 3500 on ebay US
Search For: 'scalextric (280,rover 3500)'
Ending Soonest
Rover 3500 on ebay Australia
Search For: 'scalextric (280,rover 3500)'
Ending Soonest
ITEM
DETAILS
Scalextric Rover 3500 Police Car - Auction

Location: Parkwood, WA, Australia
Condition: Used
Current Price: $9.99 AUD
Time Left: 6d 1h 18m 7s
Bids: 0