Set Details
Rallye Internationale Set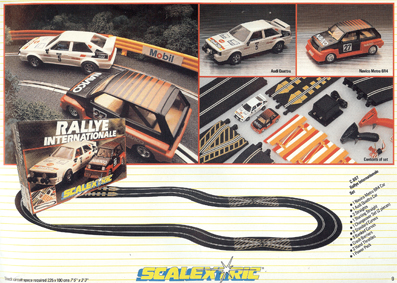 Years Released: 1986 1987 1988 1989 (Item Year pages)
Item released for 4 years.
Item:
Rallye Internationale Set
Information:
---
Category:
Sets

Category Details:
Scalextric sets from all eras.
Logo & Box Style:

1986
1987
1988
1989
Item Ranking:
Current: 124 -
May 2022
Previous: 117 -
April 2022
Movement:

(-7)
Set Year Details
(4)
Set Items
(2)
Set Year Information
YEAR
INFORMATION
1986
Try your hand at driving the Navico Metro 6R4 over this tortuous rally circuit. With its specially faired wheel arches its a strong performer but can it hold the four wheel drive Quattro? The changeover tracks equalize the running lengths of the two lanes provide a constant collision hazard to each car as they twist and turn across it.
SET CONTENTS
Navico Metro 6R4 Car
Audi Quattro Car
3 Straights
1 Starting Straight
1 Changeover Track
8 Standard Curves
3 Banked Curves
Crash Barriers
2 Hand Throttles
Power Pack for operation from AC Mains 220 – 240 volts 50 Hz
1987
The track circuit has high speed banking at one end and changeover tracks at the other to equalise the running length of each track lane. They also introduce the possibility of collisions. The 6R4 is very fast but the Audi has four wheel drive. Here are all the ingredients for a great competition.
1 Navico Metro 6R4 Car
1 Audi Quattro Car
3 Straights
1 Changeover Set (2 pieces)
8 Standard Curves
3 Banked Curves
Crash Barriers
2 Hand Throttles
1 Power Pack
1988
The rival rally cars can really have a go at each other on this tricky circuit. The banked curve at one end requires a fast approach but speed must be checked if the S bends and changeover tracks are to be negotiated safely. The four wheel drive Quattro is very fast but can it hold the nippy Metro?
1989
The track circuit is tricky for the rally car drivers, just like a real one, but a little practice will help you to work out where to accelerate or slow down. The four wheel drive Audi Quattro is a smooth performer but is it a match for a well driven Metro? The changeover tracks provide an added hazard for the less alert driver.
Service Sheets
(0)
| SHEET NO | SERVICE SHEET NAME | ISSUE DATE |
| --- | --- | --- |
Catalogue Images
(4)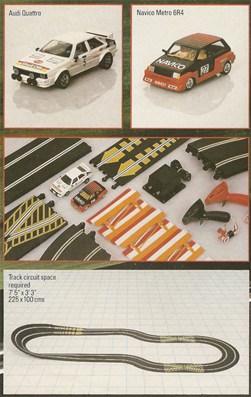 C.697 Rallye Internationale Set - 1986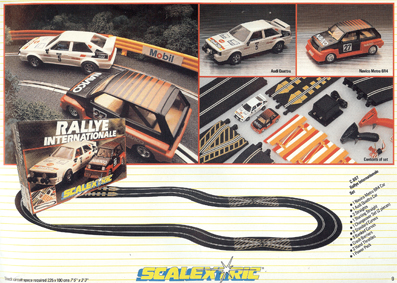 C.697 Rallye Internationale Set - 1987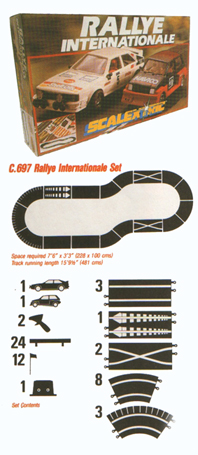 C.697 Rallye Internationale Set - 1988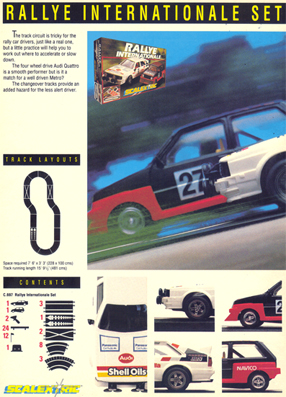 C.697 Rallye Internationale Set - 1989
Rallye Internationale Set on ebay US
Search For: 'scalextric rallye set'