Car Details
Tyrrell 008

4

Years Released: 1979 1980 1981 1982 (Item Year pages)
Item released for 4 years.
Car:
Tyrrell 008
Number:
4
Information:
---
Category:
Cars

Category Details:
Classic cars from all eras.
Car Category:
F1GP

Car Category Details:
Formula One Grand Prix.
Base Colour:
Blue

Colour Details:
Various shades of mid blue.
All Colours:
Blue, White
Logo & Box Style:

1979
1980
1981
1982
Make:
Tyrrell

Logo:
Tyrrell Logo
Logo Years:
---
Make Details:
The Tyrrell Racing Organisation debuted at Formula One racing in 1968, they won 3 drivers championships and 1 constructors championship by 1973.
Make Country:
United Kingdom
Model:
008

Model Details:
The Tyrrell 008 won the 1978 Monaco Grand Prix.
Model Production Years:
1978
Item Ranking:
Current: 131 -
May 2022
Previous: 76 -
April 2022
Movement:

(-55)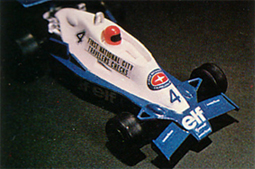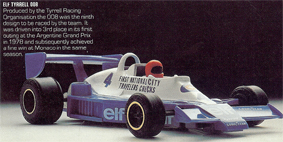 Car Year Details
(4)
Sets Included In
(2)
All Colours
(2)
| COLOUR | DETAILS | IMAGE |
| --- | --- | --- |
| Blue | Various shades of mid blue. | |
| White | The perfect colour. | |
Item Year Information
YEAR
INFORMATION
1979
This totally new Scalextric car is the latest development from Elf Team Tyrrell who are noted for their Grand Prix innovation and pioneering ideas. Ken Tyrrell began designing and constructing his own racing cares in 1970 and soon proved his skill when Jackie Stewart won the World Championship in 1971 and 1973. After pioneering six wheel racing in 1976 and 1977, Tyrrell returned to a conventional four wheel design in 1978 with the 008. The Tyrrell Team use computers to help design their cars and the 008 is the first car to carry electronic recording machines during practice sessions. The readings are then analysed by the computer.
1980
The real life ultra light 008 marked Tyrrells return to conventional 4 wheel design. In its first appearance at the 1978 Argentine Grand Prix Patrick Depailier drove the blue and white 008 into 3rd place before a crowd of 100,000. The 008 achieved championship points for its drivers on no less than 12 occasions during the 1978 World Championship including a 1st place in the Monaco Grand Prix. This eye catching model will make a fine addition to any collection.
1981
This car was the ninth design produced by the successful Tyrrell Racing Organisation. It achieved a fine 3rd place in its very first appearance at the Argentine Grand Prix in 1978 and later on a 1st place in the Monaco Grand Prix that same year.
1982
Produced by the Tyrrell Racing Organisation the 008 was the ninth design to be raced by the team. It was driven into 3rd place in its first outing at the Argentine Grand Prix in 1978 and subsequently achieved a fine win at Monaco in the same season.
This particular model from Scalextric is presented in the racing livery of the First National City Bank once Team Tyrrell's sponsors. The blue and white colours contrast well with the engine section at the rear. With good stability at higher speeds and great cornering abilities this model is often used by enthusiasts at club meetings thus proving itself a highly competitive car.
Service Sheets
(2)
| SHEET NO | SERVICE SHEET NAME | ISSUE DATE |
| --- | --- | --- |
| 102C | C.126 Lotus 77, C.131 March Ford 711, C.134 Elf Renault Turbo RS-01, C.135 Elf Tyrrell 008, C.136 Ferrari 312 T3, C.137 Ligier JS11, C.138 Saudia Leyland Williams FW07B | February 1981 |
| 102C (Back) | C.126 Lotus 77, C.131 March Ford 711, C.134 Elf Renault Turbo RS-01, C.135 Elf Tyrrell 008, C.136 Ferrari 312 T3, C.137 Ligier JS11, C.138 Saudia Leyland Williams FW07B - Back | February 1981 |
Catalogue Images
(4)


C.135 Tyrrell 008 - 1979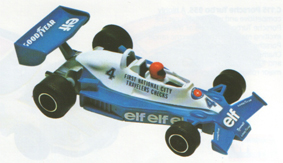 C.135 Tyrrell 008 - 1980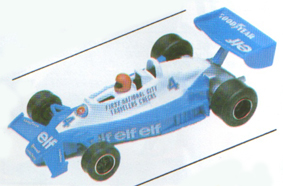 C.135 Tyrrell 008 - 1981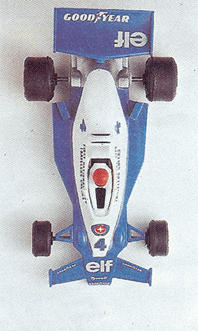 C.135 Tyrrell 008 - 1982
Tyrrell 008 on ebay US
Search For: 'scalextric (135,tyrrell elf 008)'