Car Details
BMW Turbo 320

17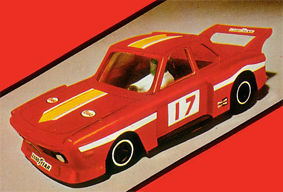 Years Released: 1978 1979 (Item Year pages)
Item released for 2 years.
Car:
BMW Turbo 320
Number:
17
Information:
---
Category:
Cars

Category Details:
Classic cars from all eras.
Car Category:
Rally

Car Category Details:
Point to point auto racing over many different terrains.
Base Colour:
Red
Colour Details:
Various shades of red.
Logo & Box Style:

1978
1979
Make:
BMW

Logo:
BMW Logo
Logo Years:
---
Make Details:
Bayerische Motorenwerke started manufacturing cars in 1929, the BMW is now a household name.
Make Country:
Germany
Model:
3.0 CSL

Model Details:
The 3.0 CSL competed in the European Touring Car Championships and was nicknamed the 'Batmobile'.
Model Production Years:
1972 - 1975
Item Ranking:
Current: 552 -
December 2019
Previous: 535 -
November 2019
Movement:

(-17)
Car Year Details
(2)
Item Year Information
YEAR
INFORMATION
1978
Driver Ronnie Peterson has proved that the new BMW 320 Turbo can seriously challenge the dominance of Porsche in saloon racing. Stage your own BMW/Porsche battles with this new Scalextric car.
1979
No range of model racing cars would be complete without a representative from BMW's long list of successful racing saloons. Every one of the eleven races in the 1977 European Touring Car Championship was won by a BMW CSL against competition from XJ 5.3C Jaguars. The 3.0 litre CSL BMW in the Scalextric 1978 range follows the official liveries of the BMW Works teams - white body shell, with red, blue and purple bands. As in the real racing world, s Scalextric BMW is the ideal car to race against a Porsche as both these Scalextric models have similar handling characteristics.
* Original catalogue image not available for this year. Using alternative image.
Service Sheets
(2)
| SHEET NO | SERVICE SHEET NAME | ISSUE DATE |
| --- | --- | --- |
| 100C | C.109 Escort Mexico, C.110 Mini Clubman, C.112 Mini Clubman, C.113 Triumph TR7, C.114 Triumph TR7, C.115 Porsche Turbo 935, C.116 BMW 3.0 CSL, C.117 3.0 Ford Capri | September 1976 |
| 100C (Back) | C.109 Escort Mexico, C.110 Mini Clubman, C.112 Mini Clubman, C.113 Triumph TR7, C.114 Triumph TR7, C.115 Porsche Turbo 935, C.116 BMW 3.0 CSL, C.117 3.0 Ford Capri - Back | September 1976 |
Catalogue Images
(2)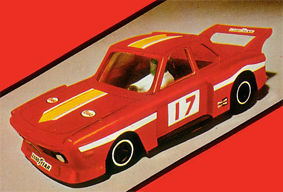 C.128 BMW Turbo 320 - 1978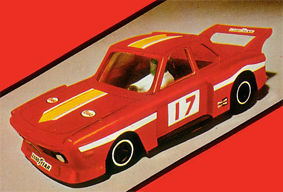 C.128 BMW Turbo 320 - 1979
BMW Turbo 320 on ebay UK
Search For: 'scalextric (128,bmw 3)'
Ending Soonest
ITEM
DETAILS
Greenhills Scalextric Horse & Jockey C128 Type 1 - Used - 20769 - Fixed Price

Location: Wetherby, United Kingdom
Condition: Used
Current Price: £38.99 GBP
Time Left: 0d 22h 12m 22s
Bids: 0
Scalextric C128 BMW 3.0l CSL Slot Car - Auction

Location: Abingdon, United Kingdom
Condition: Used
Current Price: £9.99 GBP
Time Left: 2d 1h 50m 43s
Bids: 0
SCALEXTRIC BMW Turbo 320 (C128) FOR THE COLLECTORS, ONLY MADE FOR 2 YEARS 1978/9 - Auction

Location: Derby, United Kingdom
Condition: Used
Current Price: £4.99 GBP
Time Left: 3d 1h 30m 48s
Bids: 0
SCALEXTRIC BMW 3.0 CSL No C128 BOXED - Auction

Location: Maidstone, United Kingdom
Condition: Used
Current Price: £20.00 GBP
Time Left: 3d 1h 49m 26s
Bids: 0
Scalextric C128 Dapple GreyHorse BNIB - Store Inventory

Location: Newark, United Kingdom
Condition: New
Current Price: £50.00 GBP
Time Left: 3d 5h 47m 12s
Bids: 0
Scalextric - Rear Wing - BMW 3-Series Black - NEW - Store Inventory

Location: Cardiff, United Kingdom
Condition: New
Current Price: £2.00 GBP
Time Left: 3d 11h 26m 8s
Bids: 0
Vintage Scalextric Service Sheet ,no 128A, Bentley 1929, & Alfa Romeo 2,3 Litre, - Auction

Location: Clacton-on-Sea, United Kingdom
Condition: Used
Current Price: £2.00 GBP
Time Left: 4d 5h 47m 22s
Bids: 0
Vintage Scalextric Service Sheet ,no 128, Bentley - Auction

Location: Clacton-on-Sea, United Kingdom
Condition: Used
Current Price: £3.00 GBP
Time Left: 4d 5h 50m 6s
Bids: 0
SCALEXTRIC 1970/80s REAR AXLE & CONTRATE (ORIGINAL) See below for compatibility* - Auction

Location: Bristol, United Kingdom
Condition: New
Current Price: £2.99 GBP
Time Left: 4d 6h 22m 2s
Bids: 0
Scalextric - Leisure Genius - Sinclair ZX Spectrum 48K / 128K - Large Box - Auction

Location: Gloucester, United Kingdom
Condition: Used
Current Price: £4.00 GBP
Time Left: 4d 6h 38m 19s
Bids: 0
Scalextric Porsche 935 Turbo #6 Silver & C128 BMW 320 3.0 CSL Turbo Lot / Bundle - Fixed Price

Location: Bangor, United Kingdom
Condition: Used
Current Price: £29.95 GBP
Time Left: 4d 6h 49m 50s
Bids: 0
SCALEXTRIC BMW Turbo 320 (C128) FOR THE COLLECTORS, ONLY MADE FOR 2 YEARS 1978/9 - Auction

Location: Stoke-on-Trent, United Kingdom
Condition: Used
Current Price: £29.99 GBP
Time Left: 4d 8h 11m 2s
Bids: 0
SCALEXTRIC 3 x BMW 3.18i - FULLY WORKING WITH LIGHTS - Fixed Price

Location: Brighton, United Kingdom
Condition: New
Current Price: £50.00 GBP
Time Left: 5d 7h 38m 23s
Bids: 0
Scalextric C128 - BMW TURBO 320 3.0L CSL No.19 - Store Inventory

Location: Eastbourne, United Kingdom
Condition: Used
Current Price: £20.00 GBP
Time Left: 5d 21h 19m 26s
Bids: 0
Scalextric - Rear Wing - BMW 3-Series White "Original BMW Zubehor" - NEW - Store Inventory

Location: Cardiff, United Kingdom
Condition: New
Current Price: £2.00 GBP
Time Left: 6d 5h 28m 43s
Bids: 0
Vintage Scalextric C125 Martini Porsche Turbo 935 C128 Red BMW Turbo 320 3.0 CSL - Fixed Price

Location: United Kingdom
Condition: Used
Current Price: £44.44 GBP
Time Left: 7d 9h 55m 34s
Bids: 0
Vintage 1970s Scalextric C128 BMW 3.0 CSL DTM German Touring Car (restored) - Store Inventory

Location: Broadstairs, United Kingdom
Condition: Used
Current Price: £19.99 GBP
Time Left: 7d 21h 26m 49s
Bids: 0
SCALEXTRIC C128 BMW TURBO 320 RACE PAIR BOXED, WHITE #8 & RED #17 GOOD CONDITION - Fixed Price

Location: Oxford, United Kingdom
Condition: Used
Current Price: £27.99 GBP
Time Left: 8d 4h 41m 13s
Bids: 0
Auto Modeller Magazine Oct 1979 - Scalextric, 1956 Lancia Ferrari, BMW 3.5 CSL - Store Inventory

Location: Longfield, United Kingdom
Condition:
Current Price: £3.99 GBP
Time Left: 11d 19h 40m 55s
Bids: 0
Scalextric/Slot Car 1/43 & 1/64 Scale Waterslide Decals. - Store Inventory

Location: Thames Ditton, United Kingdom
Condition: New
Current Price: £2.65 GBP
Time Left: 11d 22h 27m 56s
Bids: 0
Scalextric/Slot Car 1/43 & 1/64 Scale Waterslide Decals. - Store Inventory

Location: Thames Ditton, United Kingdom
Condition: New
Current Price: £2.65 GBP
Time Left: 11d 22h 27m 56s
Bids: 0
Scalextric/Slot Car 1/43 & 1/64 Scale Waterslide Decals. - Store Inventory

Location: Thames Ditton, United Kingdom
Condition: New
Current Price: £2.65 GBP
Time Left: 11d 22h 27m 56s
Bids: 0
VINTAGE SCALEXTRIC C296 BMW 3.0 CSL IN NEAR MINT CONDITION - Fixed Price

Location: Manchester, United Kingdom
Condition: Used
Current Price: £24.99 GBP
Time Left: 12d 5h 32m 6s
Bids: 0
Greenhills Scalextric Horse & Jockey Fairweather Lady C128 - Used - 20349 - Fixed Price

Location: Wetherby, United Kingdom
Condition: Used
Current Price: £31.99 GBP
Time Left: 12d 19h 16m 3s
Bids: 0
Scalextric M3 BMW 3 Series rally / touring car red rear spoiler Superb spares - Store Inventory

Location: Sandbach, United Kingdom
Condition: New
Current Price: £2.99 GBP
Time Left: 14d 4h 54m 56s
Bids: 0
Scalextric vintage Porsche / Rover / Escort / TR7 / BMW car various spares - VGC - Store Inventory

Location: Sandbach, United Kingdom
Condition: Used
Current Price: £1.49 GBP
Time Left: 18d 7h 52m 56s
Bids: 0
Scalextric vintage Porsche / Rover / Escort / TR7 / BMW car various spares - VGC - Store Inventory

Location: Sandbach, United Kingdom
Condition: Used
Current Price: £1.99 GBP
Time Left: 18d 7h 52m 56s
Bids: 0
Scalextric vintage Porsche / Rover / Escort / TR7 / BMW car various spares - VGC - Store Inventory

Location: Sandbach, United Kingdom
Condition: Used
Current Price: £2.99 GBP
Time Left: 18d 7h 52m 56s
Bids: 0
SCALEXTRIC Vintage 1978 - 1979 BMW 3.0 CSL RED #17 C128 - Fixed Price

Location: Huddersfield, United Kingdom
Condition: Used
Current Price: £26.00 GBP
Time Left: 19d 0h 39m 21s
Bids: 0
Scalextric Ref 8322 BMW 3 Telefunken, unused car boxed - Fixed Price

Location: Warrington, United Kingdom
Condition: New
Current Price: £55.00 GBP
Time Left: 20d 4h 5m 59s
Bids: 0
Scalextric C128 BMW 3.0 CSL White No.1 EXCELLENT Unboxed - Store Inventory

Location: Redcar, United Kingdom
Condition: Used
Current Price: £15.00 GBP
Time Left: 21d 4h 34m 57s
Bids: 0
VINTAGE SCALEXTRIC HORSE RACING DAPPLE GREY HORSE SLOT CAR #C128 - Store Inventory

Location: Hereford, United Kingdom
Condition: Used
Current Price: £33.99 GBP
Time Left: 23d 15h 53m 59s
Bids: 0
Fly A128 Corvette Mib, Scalextric Compatible - Fixed Price

Location: Haywards Heath, United Kingdom
Condition: New
Current Price: £30.00 GBP
Time Left: 24d 4h 15m 16s
Bids: 0
SCALEXTRIC C138 SAUDIA LEYLAND WILLIAMS REPRO TYRES VG + UNBOXED - Store Inventory

Location: Stockport, United Kingdom
Condition: Used
Current Price: £30.00 GBP
Time Left: 25d 0h 2m 21s
Bids: 0
Scalextric C128 BMW TURBO 320 3.0L CSL Boxed 1980 - Fixed Price

Location: Cheltenham, United Kingdom
Condition: Used
Current Price: £29.99 GBP
Time Left: 25d 18h 12m 3s
Bids: 0
Scalextric - Rear Wing - BMW 3-Series Red - NEW - Store Inventory

Location: Cardiff, United Kingdom
Condition: New
Current Price: £2.00 GBP
Time Left: 26d 16h 59m 58s
Bids: 0
SCALEXTRIC C128 BMW 3.0 CSL IN NEAR MINT CONDITION UNLIGHTED - Fixed Price

Location: Manchester, United Kingdom
Condition: Used
Current Price: £22.99 GBP
Time Left: 27d 1h 48m 19s
Bids: 0
Greenhills Scalextric BMW 3.0 CSL front axle and wheels Used P2197 - Fixed Price

Location: Wetherby, United Kingdom
Condition: Used
Current Price: £3.49 GBP
Time Left: 30d 4h 16m 17s
Bids: 0
Scalextric - Spectrum 48/128K - Boxed - Store Inventory

Location: Derby, United Kingdom
Condition: Good
Current Price: £3.50 GBP
Time Left: 30d 15h 59m 54s
Bids: 0
BMW Turbo 320 on ebay US
Search For: 'scalextric (128,bmw 3)'
Ending Soonest
BMW Turbo 320 on ebay Australia
Search For: 'scalextric (128,bmw 3)'
Ending Soonest